Getting too many injuries? Learning how to keep players fit throughout a long, laborious season will no doubt improve your chances of winning football matches, and no matter which league you're playing in, keeping players fit is a common struggle.
Player fitness & reducing injures is very important no matter what tactical style you're playing. Whether you're playing a high intensive pressing game or playing at a much lower tempo, ensuring your players at at maximum fitness, especially for significant games in the season should be a huge priority and will often result in your players running further than your opposition.
So if you're someone who struggles to keep your key players fit and is often left with a star player injured at the worst possible time in the season, keep on reading…
How To Use The Medical Centre
The medical centre allows you to see the big picture around your squad's fitness as a whole. Whilst there are multiple screens to look at, you can make valuable decisions to improve your squad fitness by glancing at the overview screen. Here's a breakdown of what is key to give your attention to: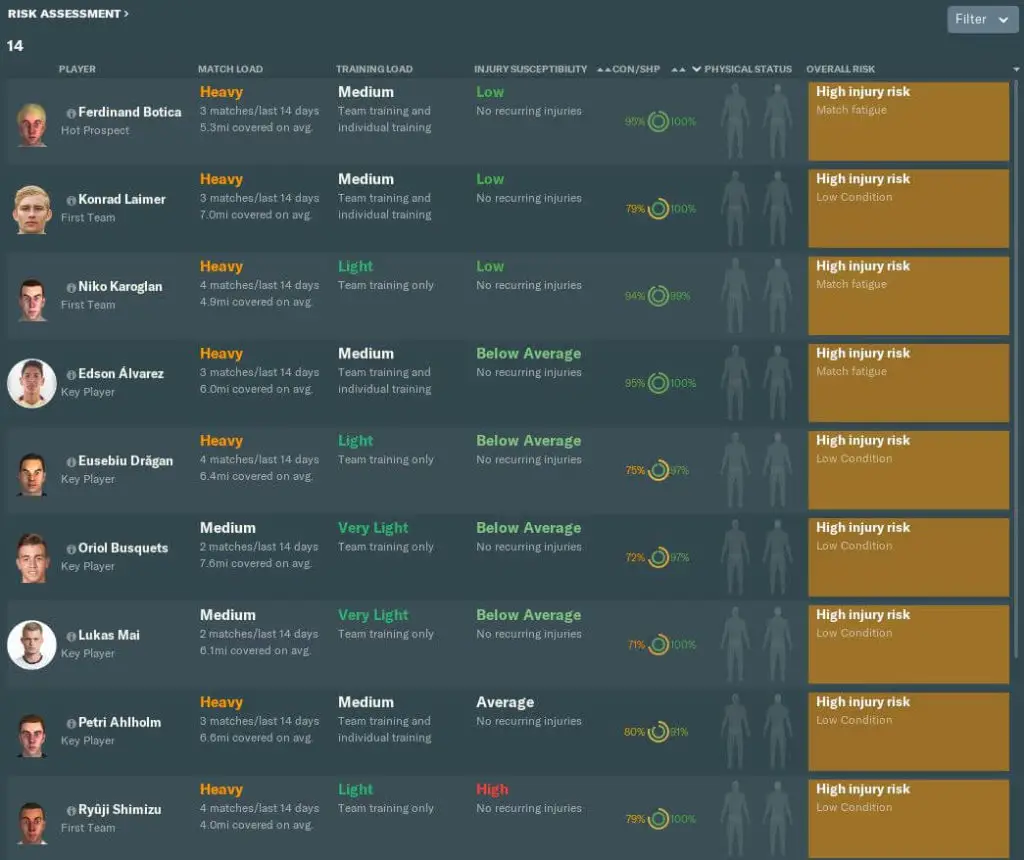 Match Load
The match load informs us how many matches a player has played in for the last 14 days. If members of your team have played a lot recently, they may become fatigued quickly in their next game, increasing the risk of an injury. However, some players are physically better at coping with the demands meaning that you shouldn't automatically remove them from the starting XI for the next match.
You can also see the average distance ran by each player in this column. Obviously, if a player has a heavy match load but has only been running a short distance on average it may be due to their position, such as a goalkeeper or centre back, or that they've been coming on as a substitute. Compare running distances with players who play in a similar position to get an idea of the expected running distance a player may achieve during a game.
Training Load
Similar to the match load, this column highlights anyone who you or your staff may have training at an increased intensity. If a player keeps appearing in the match centre overview with high injury susceptibility and high training load, it may be worth looking to reduce this load in the long run to avoid regular time out of the team.



Injury Susceptibility
This is the most important column to pay attention to on a regular basis.
On match day when selecting your starters, checkout this information in the match centre and plan around anyone with a high risk of getting injured. Sometimes we can't avoid playing one of our best players due to the nature of a match, but don't expect them to not pick up an injury eventually. Figure out which members of your team are likely to be in good shape for the match ahead. These are going to be the players not listed in the Medical Centre overview or those with low risk to injury.
Players with high or very high injury susceptibility should be given a second thought whenever you're considering including them in the match day squad. Ask yourself do they really need to play today, or will the team cope without them? Players who have a reoccurring injury or who have recently returned from an injury will often have additional details listed in this column and are at more risk of becoming injured again should they play for significant amounts of time, especially in high intensity games.
Staff Assessment
At the top of the medical centre overview screen you will be able to find a staff member's assessment on the current state of your squad. In the image below, my Head of Sports Science has provided me with some details about the workloads of some of my players, what is causing the risk to injury and some advice on what we can do. The advice is of course mixed and left up to you to decide what to do, increase workload to go for better results, or lower workload and give rest days to players to keep the squad fit.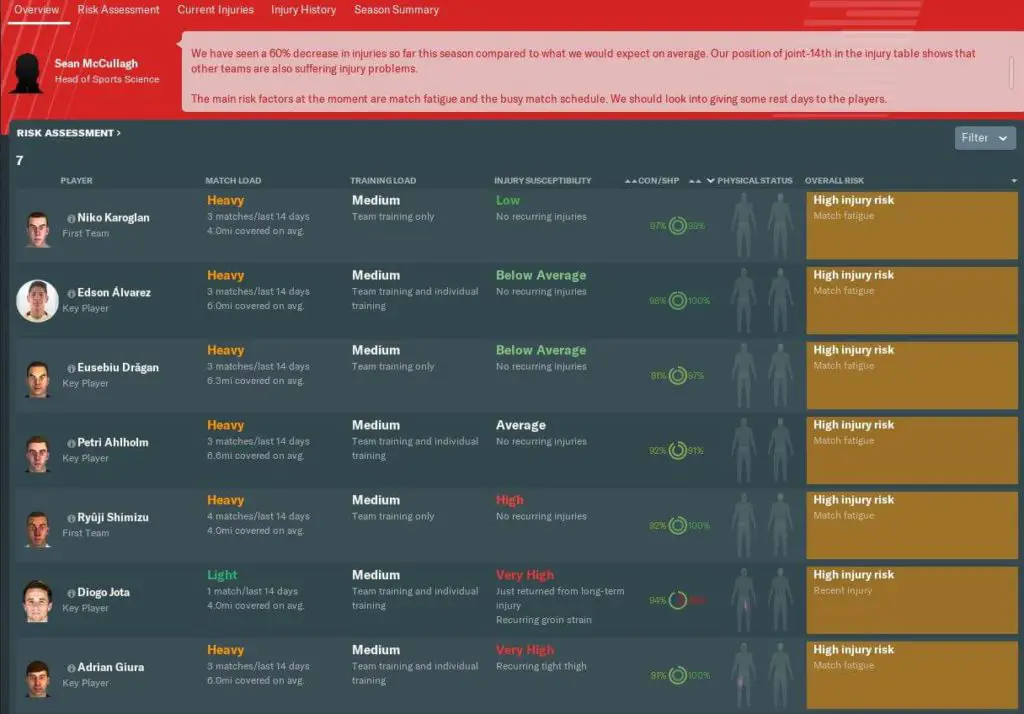 Rotation
You have 11 players to start the match, 3 to bring into the game as substitutes and a wealth of reserves at your disposal. In an ideal world, we would have a wealth of quality in each of these areas at all times similar to how Manchester City operate in real life, but this just isn't always possible as factors like wages and playing time get in the way.
This means you need to rotate your squad regularly, and sacrifice your players with the most quality in the short-run to get a long-term gain. The long-term gain is of course having your best players fully fit for the toughest games during the season.
Analyse The Opponents
To go about rotating your players, you need to carefully analyse your opposition and their current form. No matter where you are in the table, you're always going to have important league games where you need your highest ability players to be available.
For example, you need your best centre-back to be fully fit if you're in a relegation battle with a similar team in the table. Alternatively, you'll need your best striker available when you're challenging for Europe and think you'll struggle to break down a team that aren't letting many goals go in.
You can determine how likely it is you're going to beat an opponent by checking out the odds for the outcome of the match. You can see this information on the schedule screen and selecting a future match. If you've selected your odds to be decimal in the interface options, a rough guide is:
Odds below 1.50 – clear favourite to win the game.
Odds between 1.50 and 2.20 – usually favourites but not by much.
Odds above 2.20 – usually favourites to lose the match.
Remember, these are gambling odds from a bookies perspective and may not reflect the current situation with your squad such as the morale of the team.



If you feel you're going to play a team that you'll beat easily, then consider who has spent the most time on the pitch for you this season and think about whether its time to rest them for a fixture. This is important if you've got a big game coming up in which you don't want to risk a player getting injured beforehand.
When you're up against a team that you simply have no confidence in winning against, you should play your strongest squad to try and get a result right? Well, not necessarily. If you think you're about to get crushed, why not swap out your important players for a more even game in the near future? Give them some rest to be ready for a more even game to get the edge against your opponents. However, if you play a weaker squad and lose by big margins, your fans will quickly get upset and the board may even lose confidence in you.
As football managers, we are all different in our approach and decision making. It is up to you to come up with your own plan on how to maintain fitness in your squad via rotation.
This is key, especially if you're playing in England with no winter break.
U23 + U18 teams
For most teams you'll have an U23 and U18 team, or even a B team in some circumstances.
These two squads should be full with exciting young talent hopefully, but don't worry if not. We can use these two teams to help our main squad players gain full fitness by playing them in matches.
You'll notice that throughout the season, when there's an upcoming U23 or U18 game, the assistant manager will ask you via the inbox if there's anyone you'd like to select to get some game time. This gives us chance to play those fringe players who may not be getting regular game time to be able to work on their match fitness.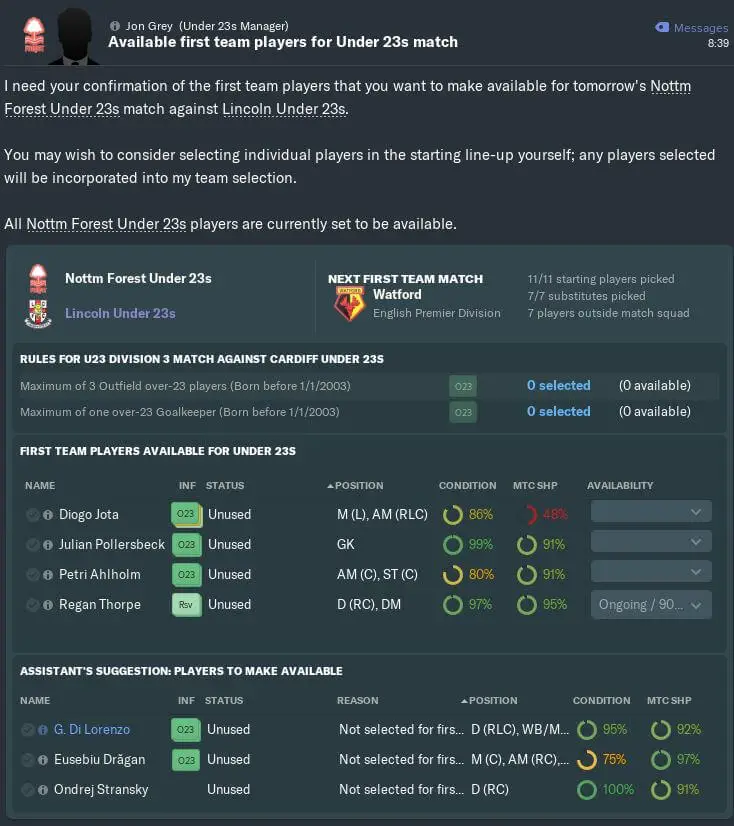 Players can still get injured in these matches, however the intensity is usually less than during a first team fixture.
Use these opportunities to deploy your players who are dropping below 90% match fitness so that they remain fit throughout the season, especially through periods where they're not involved with the first team. Keeping players fit this way will allow you to prepare for fixture congestion where you may need to dig deep within your squad depth to play a fully fit starting XI.
You have a variety of options when assigning a player to play in a reserve match. I like to stick to the below guidelines to ensure my player is maintaining his match fitness, rather than overdoing it…
95%+ rest.
90% – 95% play for 45mins
80 – 90% player for 90mins
Fixture List & Game Management
Players are much more likely to get injured when multiple fixtures are being played within a couple of days of each other. If you're managing in England, the most games are generally played around the Christmas period.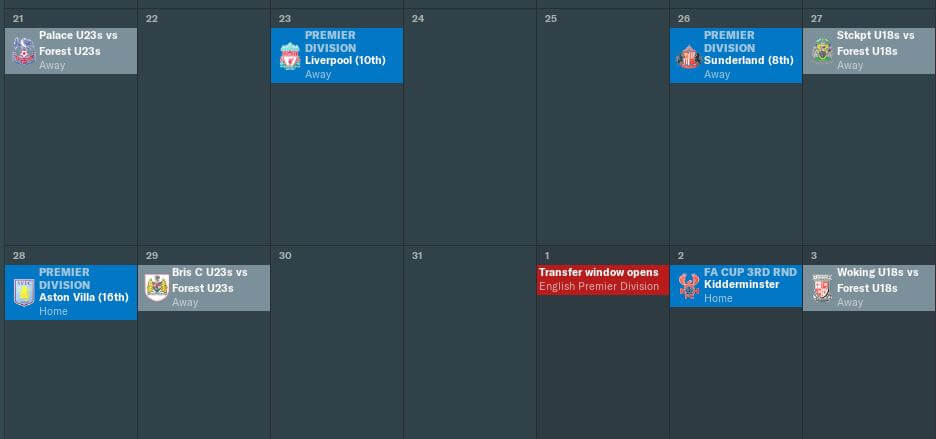 During these periods, always have the following week's fixtures in your head when deciding your starting XI. It's important to look into the future rather than having a surprise injury you weren't expecting during a period where lots of points in the table are at stake.
Always monitor the Medical Center to see who's at risk and use the advice of your staff wisely to make informed decisions.
Assess Player Fitness During The Match
Look at the condition of players and their fitness within games. Sometimes a player may take a knock during a match. If you're feeling comfortable with the scoreline or the performance of your team, consider removing the player from the match as quickly as possible and getting a sub on.
This will significantly reduce the damage of the injury rather than risking letting the player continue and allowing the knock to get worse.
If a player is beginning to look tired and their condition is dropping below 65%, its also worth considering bringing that player off to get some rest on the bench so that they're more likely to be refreshed for the next fixture.
Utilise Your Squad
There are a couple of ways to build your squad which will help prevent lots of injuries:
Try to sign a few rotational players that cover multiple positions, as in times of an injury crisis, they can be extremely useful to deploy in affected positions. This is easy to check out using the graphic on the player's profile page. The more green a playing position is the more likely this player is going to be natural when employed in that position.
If one player is constantly getting injured, consider selling them if they're providing less value to your team than what they're worth. Often players with poor natural fitness or those with the injury prone trait, which can be found in the report section of a player, will hold your team back from progressing. Why not transfer them out for someone more naturally fit?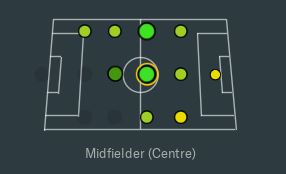 Remember, the more flexible your squad is the better.
How Do Staff Help Prevent Injuries?
There are a variety of staff roles within Football Manager, and a lot of the time, they are often the last of the staff to be upgraded or event thought of for FM players. Here's how to use your staff effectively when it comes to managing fitness and injuries.
Staff profiles and their roles.
Head Physio: Responsible for physios and posting reports.
Physio: Responsible for the treatment of injured players in your squad and to help return them to full fitness. They also play a role in reducing the risk of injuries occurring. Ensure your physios have a high physiotherapy attribute to help decreased the length of time a player spends in the medical centre. Fitness is also another attribute to desire and can be found in the managerial attributes of a staff member.
Chief Doctor: Responsible for doctors and posting reports. The chief doctor is often employed by the board and doesn't allow you to change this member of staff.
Doctor: When plays become unplayable due to them having flu for example, a club doctor can often help them with returning back to the squad.
Head of Sports Science: Responsible for sports scientists.
Sports Scientist: Help with nutrition and fitness plans to maximise the amount of energy a player can use without becoming injured. Look for a high Sports Science attribute.
What else to look for in your medical team?
Man management: defines the ability to look after team members individually.
Working with youngsters: a high attribute in this area will allow a member of staff to work more effectively with younger members of the team. This stat should be important to you if the average age of your squad is quite young, or if you have a lot of youngsters breaking into the first team.
Determination, motivation, level of discipline: these attributes all have effect with regards to how the player learns and develops in a coaching scenario. In the medical areas, staff are likely to ensure players are returning back to full fitness quickly.
Adaptability: just like other members of staff, adaptability defines how easily a team member can settle in at the club, picking up the language and feeling at home to carry out their responsibilities as best as possible.
Tactical Style
You may have noticed the intensity bar within your tactics screen and questioned the effects it has on your squad's fitness.
When you are using a tactic that demands players to do lots of running, such as tactics involving high pressing, having a higher line or having a high level of engagement, players will tire more easily.If you feel like you're squad can't cope with these asks physically, reconsider your strategy and instead, drop your defensive line back and defend using less pressing and instead maintaining defensive positioning.
Ask yourself, who's doing the most running? Can I change anything about the tactics to help them be just as effective but to run less? Doing this will lower the risk of injury and allow your team to maintain their stamina.
You can look at running stats by going to: schedule -> clicking a previous match -> view match -> stats -> your team stats ->change the drop-down to body language and performance.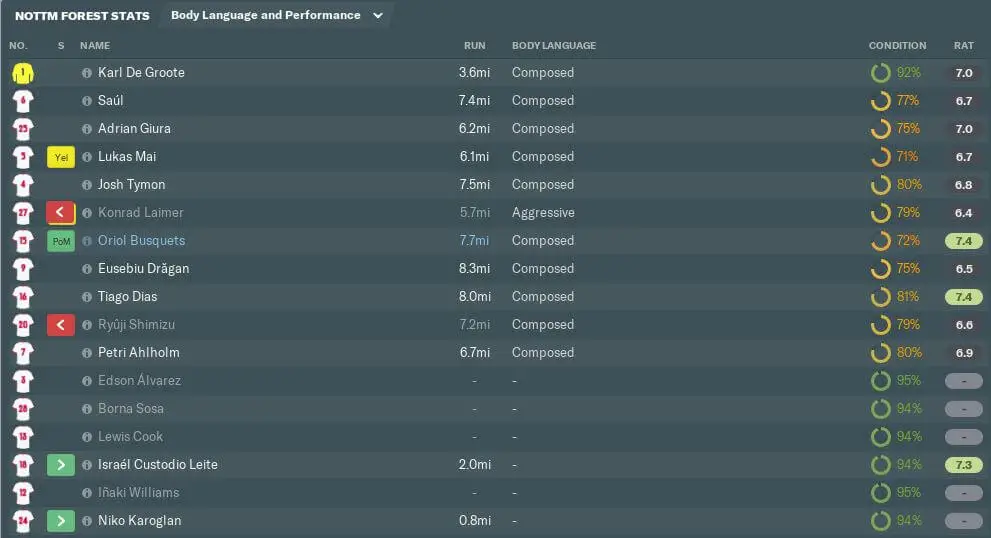 Center backs shouldn't be running around too much compared with an attacking wing back for example who needs to bomb up and down the field to attack and defend.
Give more sympathy to these players and allow them to rest more, especially if their stamina isn't too great. Any players that are injury prone in the positions requiring a great running distance should be rotated regularly at suitable points throughout the season to reduce the risk of injury.
Conclusion
You may be surprised to discover just how important managing your squad's fitness is by paying more attention to it over the course of the season. Ultimately, players who have more energy and can overwhelm the opponents are the ones most likely to win. We see it all the time in real life where squads come back from midweek European matches and struggle to perform at the weekend as they haven't had the required amount of rest days in between games.
There are a lot of great books to read on football and sports fitness. One I'd recommend you take a look at reading is "Training Secrets of the World's Greatest Footballers – How Science Is Transforming The Modern Game" by James Witts, which really hammers home the role it plays on a team accumulating wins.



---
Read more Football Manager guides:

---