Scouting wonderkids is one of the most exciting things to do in Football Manager.
There's nothing quite like a scout report showing an 18 year old from Serbia or some other random country having 5 star potential and a very good current ability to match.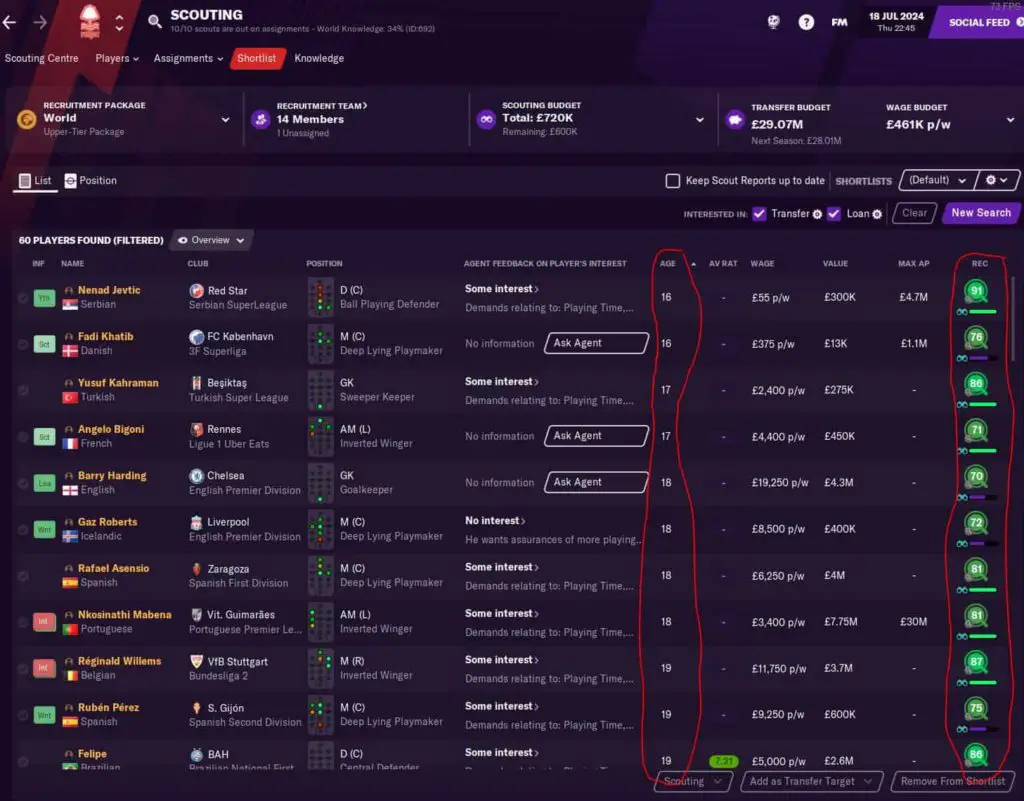 The problem is finding these wonderkids can be difficult if you're not looking in the right places or using the scouting system correctly.
Let's go through the best way to scout wonderkids in FM.
What Is A Wonderkid
I'm sure you already know, but it's important we understand before we go ahead trying to scout every single one of them in your save.
A player under 21 years old
A player whose potential ability is above 150 out of 200.
Each player in game has a potential ability, so as the game progresses their current ability will rise up to their potential ability.
Usually, potential ability will be a range, for example, 150 – 165. This means that not every player reaches their max potential if they're not developed properly.
Finding Wonderkids Quickly
You can find a list of wonderkids your recruitment team are currently aware of by going to the Scouting screen and selecting the Players tab.
Next, ensure you have no specific search criteria set and change the current view by selecting the eye button above the player name column and then selecting Customise Current View.

Scroll down the Available list of columns and find "media description". Select it and click the Add button to move it over to the right.
Click OK and you'll be able to see the media description column in your current view. Sort your shortlist by media description and scroll down to wonderkids.
You may need to buy a better scouting package if none are showing, or, your scouting team hasn't found any yet. Read on to discover how to scout for wonderkids.
How To Scout Wonderkids
If you want to focus your scouting purely on finding the best wonderkids, you'll need to configure your scouting network appropriately.
Go to Scouting and select the Assignments tab. This screen will display a list of your scouts, their key attributes and what task they're currently working on.
From this screen you can set scouting assignments by clicking the purple button "Create new assignment".
If you can't see this button, it's likely that your scouting responsibility is set to your chief scout or another staff member.
You can change who is responsible for setting scout assignments by going to Scouting, then clicking the Assignments tab, and clicking the button Scouting Responsibility.
This is also accessible on the Staff Responsibilities screen.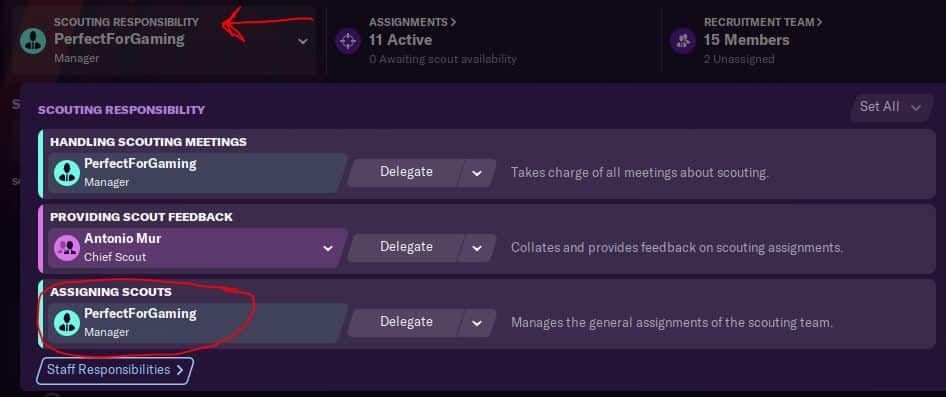 Select yourself and the "Create new assignment" button should appear, click it to begin creating a new assignment.
Creating A Wonderkid Scout Assignment
On the Create Assignment window ensure that you've selected the player scouting tab.
Next, you'll need to set two conditions if you want to search specifically for wonderkids:
Age is at most 21 years old
Scouted potential is at least superb (but this can depend, see below)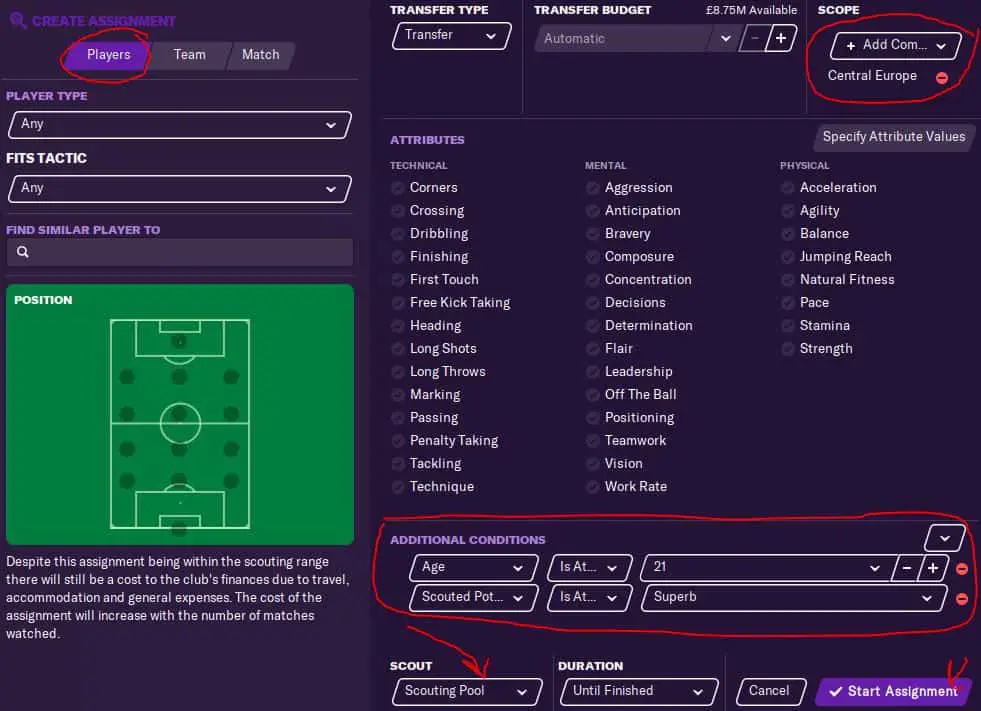 The age condition is easy enough to understand, but what does "superb potential" actually mean.
Based on your first team's current ability on average, the players that are scouted will have the potential to become a superb player for YOUR squad.
This means that if you're Real Madrid, a superb player is likely to be a top/world class player when they've reached their potential, as a lot of Real Madrid players are some of the best in the world.
If you're an English League 2 club such as Tranmere Rovers, a superb player might only have the potential of a solid League 1 player, because a solid League 1 player would be superb for YOUR team.
So, if you're a lower league club, consider scouting players that have a scouted potential ability of excellent or star as a minimum. Just remember that it'll be difficult to attract some wonderkids if your club has a low reputation, which is why being more realistic and looking for a hot prospect could be a better idea.
When you've selected the conditions, select the best or most appropriate scout from the Scouting Pool dropdown, then click Start Assignment.
Now your scout will travel to their selected region and begin watching games and producing scout reports for you to view.
Building A Shortlist Of Wonderkids
I recommend scouting all players who look promising until full knowledge has been reached. This will uncover hidden attributes and various other information that's useful to know.
You will also be able to see the media's description of a player which is a great indicator of whether or not you've found a wonderkid.
Once you have populated your shortlist with potential wonderkids, you can go to the shortlist (click the scouting menu followed by the tab Shortlist) and customise the current view to see media descriptions.
Click the eye icon just above the player names column to change the view. Next, click Custom and "Customise current view".

This will open up a window where you can add or remove columns to your shortlist view.
Scroll down the Available list of columns and find "media description". Select it and click the Add button to move it over to the right.
Click OK and you'll be able to see the media description column in your current view. Sort your shortlist by media description and scroll down to your wonderkids.
Above the button "New Search" will be the selected shortlist. Click the shortlists dropdown and you'll be able to create a new shortlist. I called mine "wonderkids".
You can then right click on all of your wonderkid's names and add them to this shortlist. Use the dropdown to switch the shortlist you're currently seeing.
Scouting Hot Prospects
If you're just looking for young players with great potential in general and not necessarily one labelled as a wonderkid, or you're a lower league club that can't attract a talented wonderkid, you can create a hot prospect assignment which is something I use quite a lot.

On the "Player Type" dropdown, select "hot prospect".
This will set two conditions:
Age is at most 24 years old
Scouted potential is at least good
Overtime, your scouts will bring you plenty of scout reports for young talented players that could even be a wonderkid.
This provides you with plenty of players that could develop into a real star for your team.
Make sure to setup your scouts in the best countries as listed in the next section.
Where To Scout Wonderkids
You'll need to setup scouting assignments in the right countries or regions around the world to ensure your world knowledge is boosted and your chances of finding a wonderkid become high.
The Best Countries To Scout Wonderkids
Some countries produce more wonderkids than others, based on a few factors such as the youth rating and game importance in that particular country.
Therefore, we need to ensure out scouting networks are setup in areas where there will be a wealth of wonderkids being produced in game.
The youth rating attribute is assigned to each nation, the higher the rating, the better the quality of regens coming through on average in that country.
This doesn't mean that you won't find world class talent as a low youth rated country.
Here's a table of the best countries to scout for wonderkids based on youth rating and game importance…
Nation
Youth Rating
(out of 200)
Game Importance
Brazil
163
Very Important
Germany
155
Very Important
Italy
144
Very Important
France
140
Very Important
Argentina
140
Very Important
Spain
140
Very Important
Egypt
138
Very Important
Turkey
124
Very Important
Holland
122
Very Important
Nigeria
120
Very Important
Mexico
120
Very Important
England
120
Very Important
Russia
118
Important
Colombia
117
Very Important
Portugal
114
Very Important
Japan
112
Very Important
South Korea
110
Important
United States
110
Unimportant
Belgium
110
Very Important
Jordan
107
Unimportant
Improving Your World Knowledge
Make sure you've selected the best scouting package possible for your scouting budget. This will immediately populate your known player list with tons of players and give your world knowledge a boost.
If you don't have a big enough scouting budget, click the Scouting Budget button and slide some transfer budget over to the scouting budget.
If there isn't enough money in the transfer budget, go to the transfer/wages budget adjustment by clicking either the transfer or wage budget button and bump up your transfer budget by removing some of the available wage money.
And if that's still not given you enough money, you'll need to improve your clubs finances by getting rid of players on a high wage or by selling a player for a decent transfer fee. You could also ask the board for an increase to your budget, but this is likely to be denied if you're new to the club or if they're struggling financially.
You can also hire scouts that have knowledge on players in different areas of the world.
Assigning Your Scouts Around The World
I recommend putting each of your scouts in a different area, and not setting the area they scout in to be too little that they'll run out of clubs to watch.
As I'm managing an English club, I want to ensure I have good scouting across the UK and Ireland, so I set one scout to work in just that area. The reason for this is so I can work within my foreign player limit more easily if I have top English youth talent at my club.
The next place I want to focus on is Europe. Europe is split into central, south, eastern as well as a separate option for Scandinavia. I'm more likely to be granted work permits from European countries.
I set a scout to each of these areas with the same criteria as mentioned above.
Then, I assign another scout to South America, another to Africa and another to Asia and Oceania.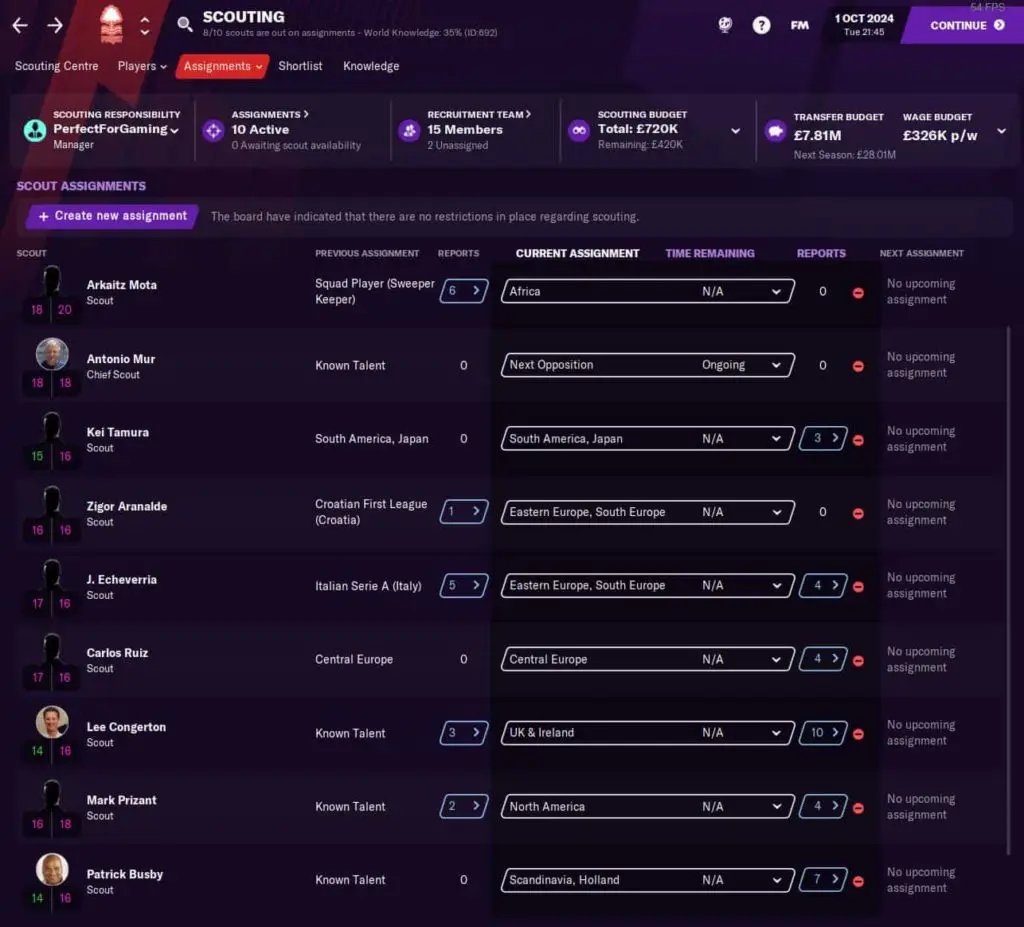 Add more scouts to the regions that are likely to produce the most wonderkids such as South America.
What about if you don't have enough scouts to cover all of these areas?
Focus on the regions or countries in which you're most likely to be granted a work permit from, as well as the countries that are likely to generate the most wonderkids, see "where to scout wonderkids" above.
Best Staff For Scouting Wonderkids
It should be pretty obvious what you need to uncover wonderkids quickly and with the most reliable data – quality scouts.
Important Attributes For Wonderkid Scouts
You'll need scouts that have high attributes in the following:
Judging Player Ability (important)
Judging Player Potential (very important)
Adaptability (very important)
It also helps if they have good determination and a suitable personality, but don't worry about these too much.
Obviously, you should aim to get the staff with the highest in those attributes that are available and give them long-term contracts and this may hard if your club isn't very reputable.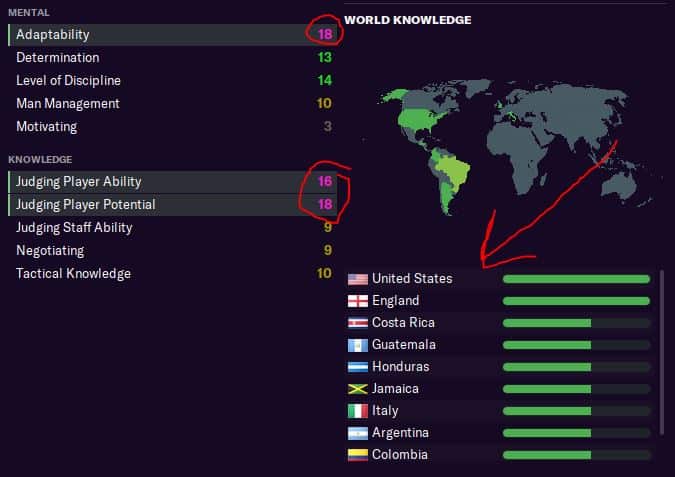 Judging Current Ability Attribute
You may be wondering why being able to judge current ability is important if we're only looking towards the future…
By looking at a player's current ability and attributes along with their age, we can see the likelihood of that player reaching their full potential.
If you find a 17 year old whose stats are extremely good for their age already, then it won't take too much time or effort for them to progress into a world class player.
Whereas, if you find someone of the same age that isn't particularly showing any exciting quality in the relevant attributes currently, it could be a waste of time signing them and waiting years for them to reach a potential ability that was hard to reach in the first place.
Judging Potential Ability Attribute
It's key for a scout to be able to work out the potential of a young player, otherwise, you could waste your time signing the wrong players only for them to turn out to be horrible.
Scouts who have a high judging player potential attribute will be able to better pinpoint how good a player can become and do it quicker than other scouts too.
We need to know if a player is going to develop into a beast, or just turn out to be average.
When we know this information, we can work out whether it's worth spending a lot of money on a wonderkid or whether we have to negotiate hard and pray there are no ridiculous release clauses.
Scout Adaptability Attribute
Scouts are often travelling around to different countries, regions or continents, therefore it's important they can adapt to the different cultures of the many countries that they may be visiting for the first time.
A high adaptability allows them to scout more effectively, potentially providing you with more scout reports per area scouted than a scout with low adaptability.
I've always found my scouts with higher adaptability to do better overall. They'll often boost their world knowledge more quickly as they venture out to different nations.
Scout World Knowledge
Different members of staff bring their own "world knowledge" which benefits the amount of known players you have in your scouting list.
It's worth hiring scouts that have different sets of world knowledge if possible to quickly boost the amount of players your scouting team knows about, giving you more options for transfers.
However, scouts will gain more world knowledge when they're performing their scouting duties in countries they've not been to before.
Expand Your Scouting Team
When I feel it's appropriate and when the option is available, I ask the board to expand the amount of scouts allowed at the club.
Having a large scouting team is key to boosting world knowledge and having eyes all over the world looking for young talented players.
Honestly, I tend to ignore the recruitment analyst and other recruitment roles when it comes to looking for wonderkids.
Recruitment analysts can provide match stats about the player you're targeting as well as suggest potential targets based on their match stats, but I don't really find it very useful when searching for wonderkids.
Often wonderkids will be too young to be playing in a first team and if they are, they're usually not in a league that matches their current ability, so match stats tend to be unimportant here.
Just focus on signing the best scouts you're able to.
Evaluating The Potential Of A Wonderkid
Sometimes you can sign a player labelled as a wonderkid, but they don't turn out to be the player you dreamed of.
This could happen for a number of reasons in the complex universe of a Football Manager save, but here are some things to check before signing…
Current Ability
I always find my better wonderkids are those that already have the foundations in place to become a solid player in the future.
I like to use the below table as a rough way of evaluating the potential of a wonderkid, based on their age and their current ability.
| | |
| --- | --- |
| Age | Current Ability |
| 16 | Sky Bet League 2 |
| 17 | Sky Bet League 1 |
| 18 | Championship |
| 19 / 20 | Premier League |
If I see an 18 year old who can play in the Championship confidently then I know that providing the other factors required for a world class wonderkid are there, the youngster should turn out to be a solid player in the future and reach their potential.
As mentioned, this is a very rough and quick way of evaluating whether a player will turn out strong, there are many other factors discussed below.
Players who are high in their current ability at a young age will also fit into your first team quickly, allowing them to get the playing time they need in a reputable league to progress more efficiently.
Game time is key for developing a player's attributes quickly – don't let wonderkids rot in the reserves.
Of course, they may attract loan offers too, but a player won't progress as well if they're playing in a league that isn't a challenging difficulty.
For example, don't play an 18 year old who is well suited to the English Championship, in a league equivalent to League 1 or League 2. If they find the league easy to play in, they'll struggle to develop quickly if at all.
Current Attributes
Similar to above, you could look at the current attributes of a player to determine their current ability compared with a similar player.

If you think you've found the next Paul Pogba, go to Google and find a screenshot of Pogba's Football Manager stats from a previous version of the game, one that's a similar age to the wonderkid you've found.
Compare the stats important for that player's position and you'll be able to understand just how good a player may be at their current age.
Alternatively, use the comparison tab on the player's screen and select "Find similar players" to see players that have similar high attributes. Or compare them with players in your club.
Look for the most important attributes for that player's position.
For example, let's say you've found a 17 year old center back with an attribute of 14 for tackling, marking, positioning, anticipation, or of a similar level in attributes important to a center back, you've potentially got yourself a very valuable player.
Personality & Determination
Always look for players who have a high determination.
It's always been an FM player favourite attribute for a reason – it helps your player develop.
A highly determined player who has a personality such as "driven" will aim to be the best player they can, that includes training and when playing in a match too.
However, it's still very possible that a player with a mediocre determination and a balanced personality will progress well, but it's less likely.
Remember, if we utilise the mentoring groups correctly we can help shape and mould a player's personality and mental attributes including determination.
Player Traits (Pros & Cons)
Always scout a potential wonderkid until full knowledge and uncover clues about their hidden attributes/traits.
You don't want to sign someone without knowing that they have an awful personality, they're extremely injury prone, they don't adapt well and might become homesick, they're inconsistent, etc.
Those sort of players struggle to reach their full potential.
Work Permit Potential
If you're an English club, thanks to Brexit, it may be difficult to even get a work permit for the wonderkid you want to sign.
Usually, it's easier to sign EU wonderkids than it is from less reputable continents such as Africa, but it all depends on what league you're playing in, wages, and other factors.
Gaining enough scouting knowledge about a player will often inform you their chances of obtaining a work permit.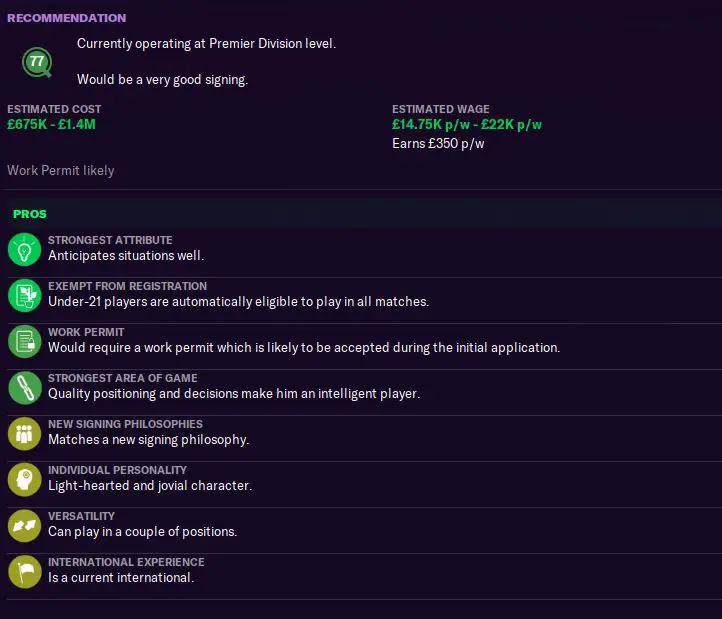 Sometimes, on the transfer offer screen for that player there will be an alert at the bottom to provide information on what's required for that player to achieve a work permit in your club's country.
Usually, the more reputable your club and league is, the more likely the chances are the work permit will be granted, along with various other factors.
Wonderkids are often gaining appearances at an international level too which massively helps towards getting a work permit.
Competing Against Other Clubs
It's important to understand that while you'll discover some wonderkids before other teams, for others there could be fierce competition from bigger clubs than your own that have already scouted the player.
This means there is an argument for trying to scout in more obscure countries not listed above where other clubs may not focus their wonderkid scouting.
The more obscure the location you find a wonderkid in, the easier they should be to sign. When I say obscure, I mean countries that have low reputation leagues.
You should be scouting everywhere possible in theory with if you have enough scouts.
Agents often like to drum up interest for their clients and leak stories to the media. This is particularly annoying as it can attract bigger clubs with bigger wage budgets to take a look at the player. That's if they weren't already keeping an eye on them.
Tips For Signing A Wonderkid
If you're worried that the wonderkid you're after might sign for someone else, try out the below tips:
Don't try to bargain too much with wonderkids if there's transfer interest from other clubs with a higher reputation or those that play in a more reputable competition.
Give them the wage they ask for and maybe a few other bonuses if other clubs are interested in buying your target. If you have the money, perhaps even give them a little more than they were after originally to help sway their decision.
Offer them a suitable status or a good amount of playing time within the club if you feel like you can give it them.
Add promises that you know you'll be able to fulfil.
Remember, if the player you're trying to sign won't be good enough for your first team straight away, you can still offer them a good amount of playing time, and instead loan them out elsewhere.
Make sure you DO actually loan the player out though, otherwise you'll quickly upset your wonderkid, and nobody wants that.
Scouting Wonderkids Can Be Difficult
If you follow the above guide, you'll quickly uncover some very exciting wonderkids in Football Manager.
Scouting can be easy once you know the basics, and you don't really have to play around with the settings too much once your scouting network has been setup.
Good luck on finding wonderkids in your Football Manager save, there are plenty out there.