Struggling to get your team producing results, or simply new to Football Manager?
To create the best tactic for your squad, you need to understand the strengths and weaknesses of your team and create the best tactic for their abilities.
Don't use a random plug and play tactic you've found on the internet that worked with the creator's one specific team. It's not rewarding and it doesn't help you learn as a manager!
So here's EVERYTHING we could possibly think of with regards to creating the best tactic in FM for YOUR team.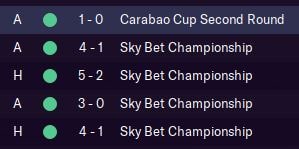 Where To Start
One of the most challenging things is thinking of what tactic to use and how to implement it within Football Manager.
An important first step is to understand the quality of your squad, as well as establish who your key players are that will form the spine of your team. Knowing the qualities of your squad will help you select a tactical style.
This will also give you chance to work out which positions you will need to recruit for in the future to ensure that you're upgrading the quality of your team in the long run.
There are a number of ways to understand how good your players are and what formation and tactical style they're suited for…
Assessing Your Squad
Squad View
Select the Squad menu item on the main navigation.
Here you'll be able to view your first team players.
Make sure that you don't have any first team players in your U23s before going ahead. If you need to check, go to the Development Centre, select U23 Overview tab, and move any player's that you'd like in the first team by right clicking on them and selecting "Squad > Move To Senior Squad".
Now that you can see your first team, select the view button (indicated by an eye icon) above the list of players and select Reports.
Click the Ability column title to sort the column by highest ability to lowest.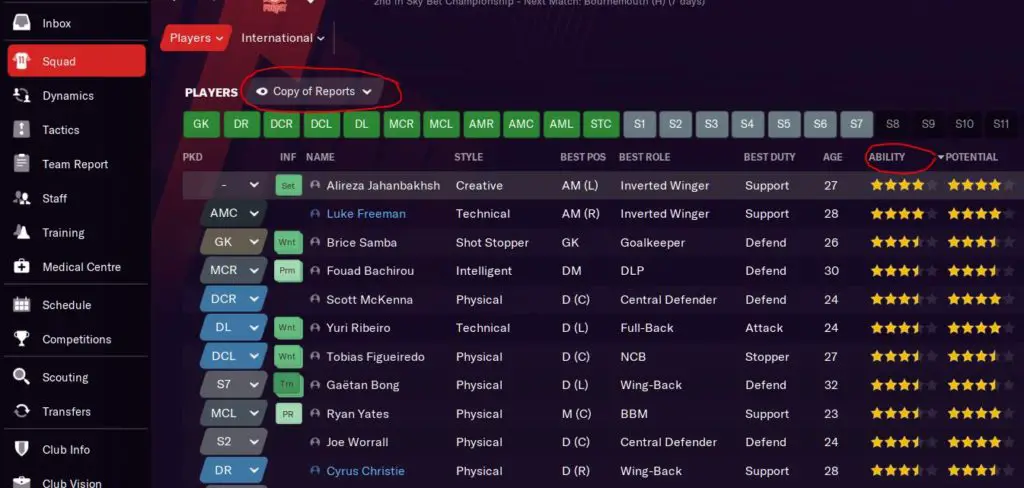 You'll be able to see the best players in your squad at the top of this list.
Remember that the star rating is a comparison of players within your team and league. A three star player is the average for the league and team your player is in. The star rating is also based on whichever staff member's report you're viewing – in this column, it should be your assistant manager's opinion. You can change who provides player reports in the staff responsibilities section under "Advice & Reports".
There is also a column called Style in which you get gain a further understanding of how that player likes to play on the pitch.
Some may be physical, whilst others are more creative, technical or intelligent.
If you like the look of your top players, you could choose to build your formation around them, using these players as the spine of the team.
In this example, I have two inverted wingers, one for each side, a solid goal keeper, a deep lying playmaker as well as a central defender.
Already, I'm thinking about using the two inverted wingers as my key players and how we can use them to create or even score goals going forward.
Player View
Now that I've found my strongest players and even the spine of my team, I will take a look at them one by one to assess what player roles they may be suited to as well as what formation I may use.
As I have two inverted wingers that are standing out, I'll take a look at these players first.
By hovering my cursor over the little person icon to the left of the player's name I can quickly get lots of key information about a player.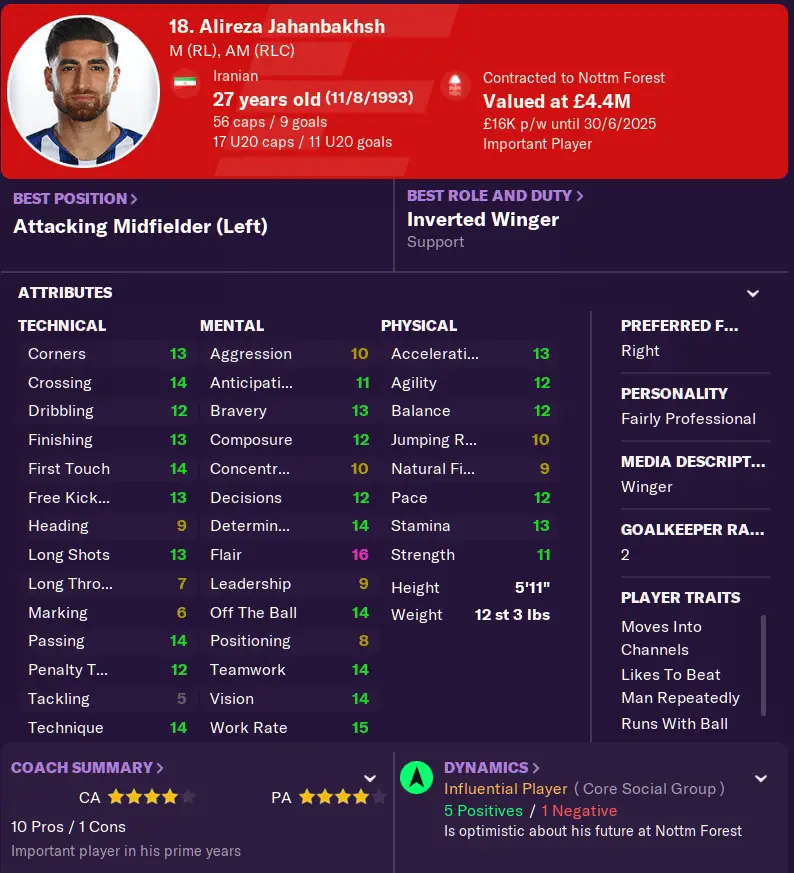 Jahanbakhsh (it took me several attempts to spell this) appears to be very well rounded with lots of attributes between 11-15, perfect for the Championship.
He seems to be great at crossing and passing, whilst his mental stats such as off the ball movement, teamwork, vision and work rate all indicate he'll be excellent at creating opportunities for others to take advantage of.
Whilst having a good amount of pace, he isn't going to speed by many defenders, so perhaps he won't be very effective at leading a counter attack.
Now that we've made some assumptions about Jahanbakhsh, let's see what our assistant's opinion is by clicking his name and going to the Reports tab.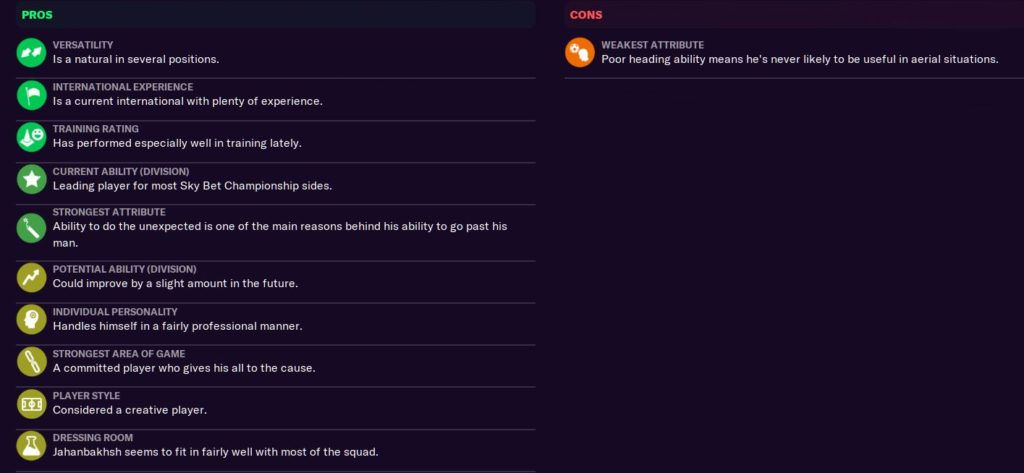 Here our assistant advises that Jahanbakhsh is actually a top player within this league.
We can also see he's very experienced, and very versatile too, which is excellent if our squad is hampered by injuries.
As expected, the player style note mentions that he's considered a creative player, just what we originally thought.
We only know of one weakness or con from this report. Poor heading. Not particularly important for a winger so we don't need to worry too much.
We know we have one creative winger, let's check out our other players.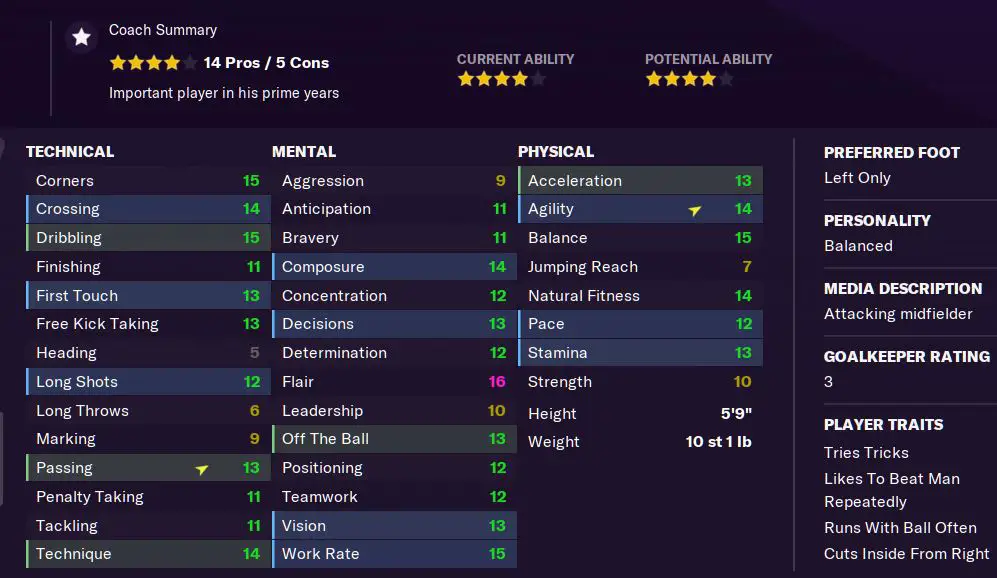 Here are Luke Freeman's attributes. You'll notice they are very similar to Jahanbakhsh, but Freeman has slightly better dribbling which may be useful.
Again, not a particularly quick player, so it looks like we may want to avoid playing counter attacking football.
Two very creative and technical players that can play out wide as well as being versatile, they can play in the middle of the park too in the attacking midfield center.
Looks like we could be thinking about a 4-2-3-1 or a 4-3-3 so far.
Team Report
Head over to your Team Report which can be found in the main side navigation.
Here you'll find a lot of information surrounding your players, formation and tactics.
Click on the Assistant Report tab.
Immediately, you'll be able to see the Best XI according to your assistant's opinion. He'll also provide a list of strength and weaknesses about your squad.
I recommend reading through these points but not paying all of your attention to them. It'll help you understand who some of the best players are within your team as well as some commonly high attributes.
At the bottom right of this screen, you'll be able to click a Squad Comparison button.
On this screen you can go through each area of the pitch and compare the average for each attribute with the other teams in the league.
This may help you decide which tactical approach to employ, or if you already have an idea of how you want to play, it may highlight areas that you'll need to recruit in.
Here you can see my team aren't very good with long shots compared to the rest of the Premier League, so I may want to work the ball into the box rather than shooting on site to get the best out of my players.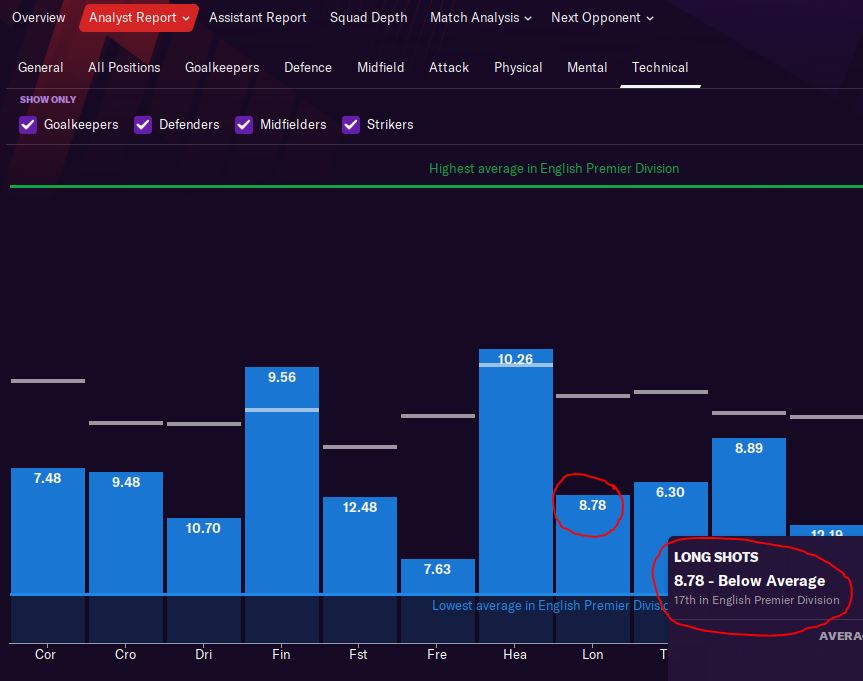 Make sure you select the relevant player position boxes for the attributes you're looking at just above where the graph is. For example, take tackling. You'd only want to compare perhaps your midfield and defence's tackling attributes with the rest of the league as strikers don't tend to tackle that much.
A last example could be that if you want to play a high tempo short passing game, you'll need to have a squad full of players that have high attributes for passing and first touch compared with the rest of the league.
Squad Depth
Go back to the Team Report and select the Squad Depth tab.
Here you'll be able to see all of your first team in the positions that they feel comfortable playing in.
Remember that the star ratings only exist to compare the player's overall quality with the rest of the player's in your squad. A three star player is the average level of quality within your first team.
On this screen you may discover that you have lots of quality in some positions but are lacking in others.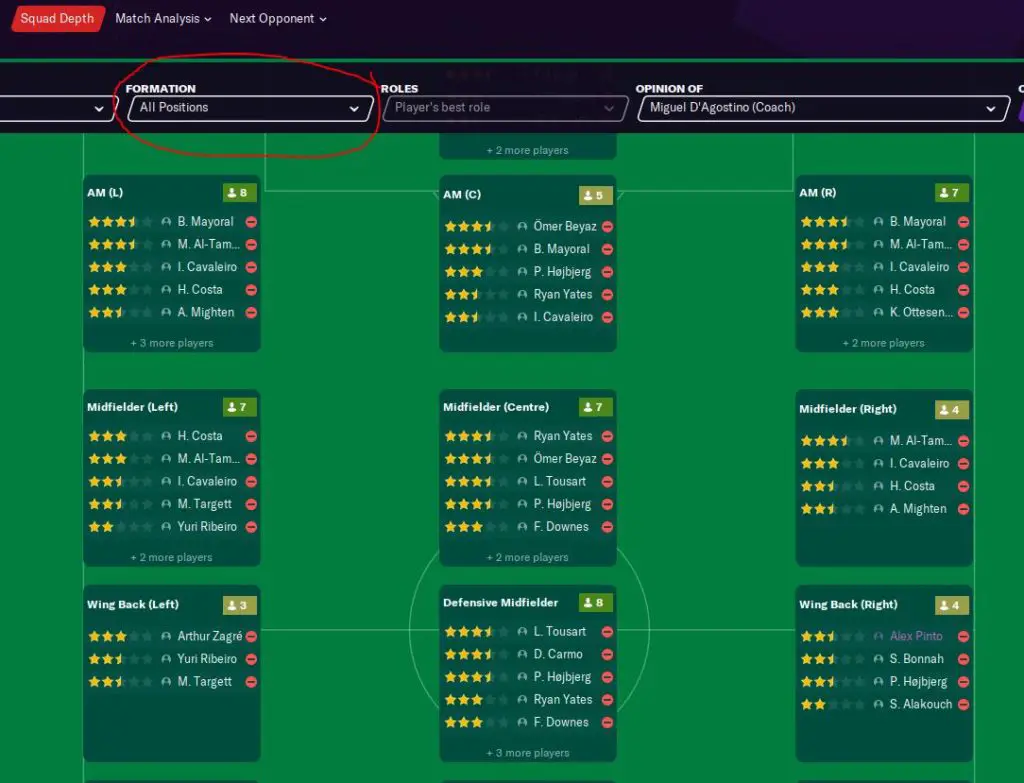 Use the formation dropdown to change the formation you're seeing. You could find a formation that will allow you to play lots of your quality players at once, giving you a good level of quality in all areas of the pitch.
Otherwise, you may need to recruit some new talent to fill the voids in your team.
Tactical Styles
Now that you've taken time to understand which players and which areas of the pitch your team have quality in, it's time to think about your style of football.
There are so many different ways of playing football that I couldn't sit here and write about every style.
If you're unsure of what style of football you want to play on the pitch, consider the following…
Perhaps there's a team in real life that are playing a way you'd like to copy.
Maybe you want to score lots or build a fortress at the back?
Fancy having lots of possession or counter attacking a lot and shooting when you can?
What are the strengths of your squad and how can you use those to play in a particular way?
Make Sure Your Player's Attributes Matches Your Style
Consider Klopp's counter pressing style at Liverpool and what qualities make up that tactic:
Pacey attackers
High work rates all over the pitch
Creative wing backs with quality crossing
An anchor in the midfield
A high defensive line with pacey center backs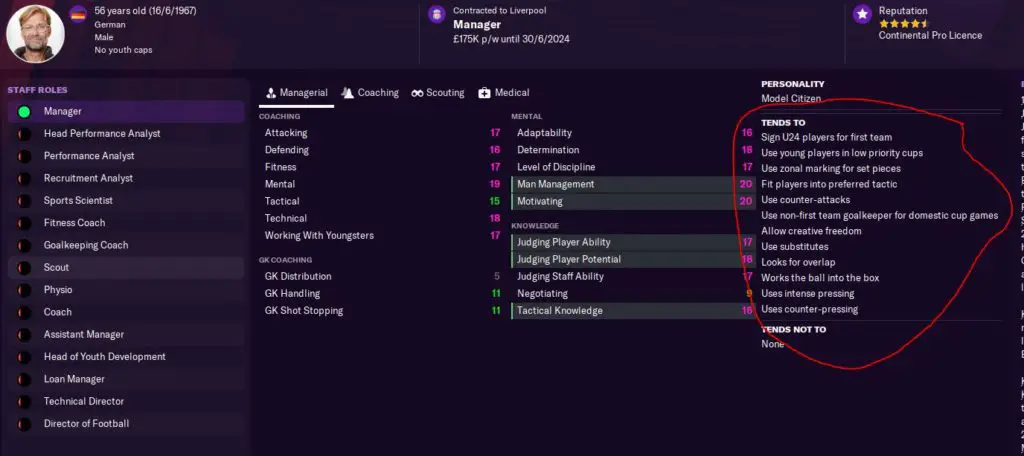 You must ensure that your player's qualities match up to the style you want.
It would be no good for Klopp to use full backs that are slow and defensive that don't bomb forward along the wings providing width and creativity.
Also, if your squad doesn't have reasonably high attributes for passing and first touch, it's may not work out trying to play a tika-taka passing style.
If you don't have the right players for your dream tactic, consider altering it until you're able to get into the transfer market and recruit the right players for your particular style.
Team Mentality
Team mentality is a very important feature and tactical decision for you as a manager to make during a match.
It shouldn't be left static and should be considered carefully, giving thought to who your opponent is.
There are seven different options for team mentality from very defensive to very attacking.
It is recommended that for weaker opposition you should select a more attacking mentality, encouraging your team to get into the opponent's half and play the ball quickly around the pitch to take as many quality shots as possible.
Whereas if you're playing a much stronger team than your own, it's probably a good idea to select a more defensive mentality, asking your team to be more concerned about not letting a goal go into your own net.
If your opposition is an evenly matched team in terms of quality and form, try starting the game with a balanced mentality and use the statistics and your own eyes to work out if your team should operate more defensively or with more threat going forward.
More attacking formations tend to require more intensity and running from your team, so you may need to use players that have a high stamina and work rate to get the best out of this mentality.
It is possible to mix a defensive formation and tactic with an attacking mentality and vice versa.
Test out each mentality when it's appropriate and see how your team respond to get the best results.
Football Manager's Template Tactical Styles
Control Possession
As it mentions, it's all about retaining the ball for long periods, slowly working the ball up the pitch and being patient before attempting a final pass for a shot.
Off the ball, the team will seek to press high and win the ball back instantly.
Think of a Manchester City style of play.
Suitable formations: 4231 wide, 433 wide, 5221.
Gegenpress
This tactic needs players with a high work rate and fitness level.
It's all about counter pressing, as soon as the ball is lost, your team will begin to engage, swarming the opposition players and trying to win the ball back as quickly as possible.
Once the ball is won, the team will try to play it forward and create a scoring opportunity as quickly as possible.
Think of a Liverpool style of play. Jurgen Klopp's "Rock N Roll" football.
Suitable Formations: 433 wide, 4231 wide, 442 diamond.
Tika-Taka
A more extreme version of Controlled Possession.
Players will need great vision, passing and a good first touch to be able to play lots of passes.
It's an extremely patient approach based on playing lots of short passes and waiting for the opposition to lose focus or lose track of a player before the final ball can be played.
Out of possession, the players should have the energy to press quickly and win the ball back before building up their shape and retaining possession once again.
Think of Pep's Barcelona style of play.
Suitable Formations: 433 wide, 4231 wide, 5221.
Vertical Tika-Taka
A much more narrow and direct approach to the standard tika-taka.
The team will try to play through the defensive lines more quickly with short passing and off the ball movement with the aim to attack in a quicker fashion.
Suitable Formations: 433 wide, 442 diamond wide, 5212.
Wing Play
This tactic focuses on attacking down the wide areas with wingers and full backs, using crosses into the box to create opportunities for more central attackers.
Your players on the wing will need pace, great crossing and stamina, whilst your striker may perform well being an aerial threat.
Suitable Formations: 442, 433 wide, 424 wide.
Route One
An extremely direct tactic in which your team will launch the ball forward to the furthest available player with the intent to stick it into the box as much as possible.
It's great if you have a player like Giroud that loves to win aerial duels, setting up team mates or scoring goals as an all round target man.
Think of a classic Sean Dyche Burnley approach. Defend the ball, launch the ball.
Suitable Formations: 442, 433 wide, 4411.
Fluid Counter-Attack
Similar to the direct counter attack below, the team will defend with a low line, aiming to attract the opposition forwards.
When the ball has been won back, your team will play short high tempo passes up the pitch attempting to launch a speedy counter attack.
Suitable Formations: 433 DM wide, 4411, 532 WB.
Direct Counter-Attack
Playing this tactic will make your team sit back with a low defensive line, inviting the opponent to move forward to attack you.
Once you've got hold of the ball, you'll be able to spring forward into the space behind your opponent with long direct balls as your team breaks at pace towards the goal.
Pacey wingers are the key to attacking the space quickly.
Suitable Formations: 442, 433 DM wide, 4411.
Catenaccio
The word Catenaccio is an Italian word that translates to "door-bolt".
Another defensive tactic, your team will operate with a low line of defence, remaining compact and moving from side to side aiming to nullify the opposition's threat.
Whilst very similar to the "Park The Bus" tactic described below, it's not as static in its defensive shape, but is also difficult to score many goals due to the primary focus on defensive shape.
Suitable Formations: 532 WB, 523 WB wide.
Park The Bus
This strategy will aim to stop the opposition taking shots at close range, literally as if a bus were parked inside the box.
It relies on a compact shape that leaves no space between the goal keeper and back line, as well as inside the box.
Your team will need to take the limited chances they'll get on a counter attack if you want to get three points.
One of the best examples of a park the bus tactic was when Liverpool played Chelsea in the game the Gerrard slip occurred. Mourinho's men sat deep to counter the pace and speed of Liverpool who exploited the area behind the opponent's defensive line constantly that season.
Suitable Formations: 442, 4141 DM, 451 2DM.
Which Formation To Use
As well as ensuring your squad matches your style, you'll need to make sure that both match your chosen formation.
Sometimes it may be easier to work backwards, select your formation first and then figure out what players will fit into it and the style you want to play from there.
It may be worth considering setting up two tactics as you may find an opponent that constantly beats you with a specific formation that counters your own.
The 4-2-3-1 tactic can work well against a 4-4-2 for example, as the 4-2-3-1 creates triangles in the midfield to bypass the 4 midfielders of the 4-4-2.
Remember that the natural setup of some formations are narrow (e.g. 4-1-2-1-2 diamond), whilst others use the whole width of the pitch (e.g. 4-3-3), but mostly all can be adjusted in some way to vary their setup.
The formation you setup is how your team will position themselves when defending. The player roles you set for each position as well as any individual player instructions will affect how the players move and how they position themselves when attacking.
Consider a 4-1-4-1 formation with 4 midfielders including a winger on each side. The wingers will come further back on defence, but will still attack down the wings with an attack duty set. Whereas, a 4-3-3 formation will mean that the wingers are less likely to come back on defence and instead wait further up the pitch ready for the opportunity to attack.
Setting Player Roles
When you've chosen the formation, you'll need to add in your players you evaluated earlier and give them a playing role.
You will need to pick the right player role to get your team playing the way you would like.
Here are some examples to highlight the importance of selecting the correct player role for your strategy:
Using a no-nonsense center back when trying to play out from the back will be useless, instead select a ball playing defender.
Playing a high defensive line and using a sweeper keeper rather than a normal goalkeeping role will bring the goal keeper out of their box to clear any balls over the top or retain possession rather than leaving a gap for an opposition striker to run in to
Use a target man if you're playing lots of early crosses into the box, a false 9 may be sat so deep that they may not even have made it into the box for the cross.
Also consider where your players will move to when your team is in possession. Sometimes, you can have too many players running into one space or crowding the middle of the pitch, leaving the space on the wings empty for example.
Read about each player role's description carefully. In the latest FM you can now see a little diagram of how the player will move in their role too.
When selecting a player role, get a good mix of defending, support and attacking roles depending on how you would like your team to play.
Attacking players may not track back and help defend much, an example being Neymar at PSG. He's used as the main attacking threat, so why waste energy coming back to defend.
Support players will be balanced in their attacking and defending.
Whilst defensive players will tend to stay back and prepare for the opponent's attack.
Those on the automatic setting for some player roles will follow whatever the team mentality setting is on. If it's more offensive they will focus more on attacking and vice versa.
Setting Team Instructions
Setting the right team instructions can have a huge effect on how your team plays during a match.
They should be tweaked to get your team playing how you'd like them too.
Often a lot of Football Manager players get confused about how many team instructions to set or activate, but there is no correct answer and perhaps no need to worry about setting a specific amount.
Player traits can often counteract the team instructions you've set too. If you notice a player not following team instructions consistently, this could be a reason why.
Team instructions are set into three different categories:
In possession (how your team plays when they have the ball)
In transition (what your team does once they've just won possession, moving from defence to attack)
Out of possession (how your team should shape up when trying to win the ball back)
Whilst most of the team instructions are easy to understand, there are a few that continue to puzzle Football Manager players…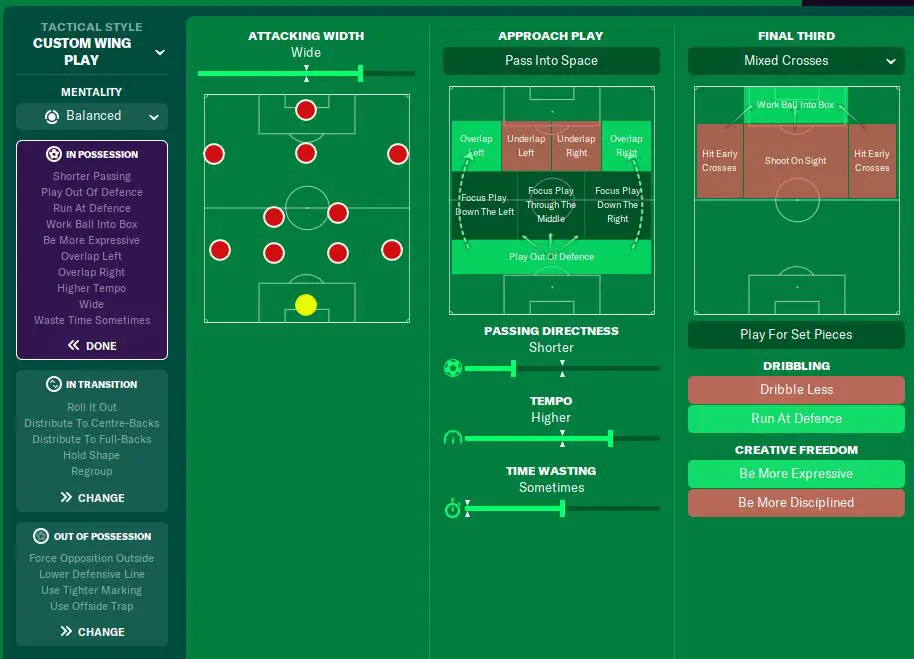 Attacking Width
Width in the "in possession" section refers to how wide your players will be when attacking, not defending.
When attacking, a narrow width will keep your players close to one another and leave the wide spaces on the wings fairly empty. That doesn't mean a full back won't go into the space if they're overlapping, but they will be further inside of the pitch rather than running along the touchline.
Also, player traits like "hugs the touchline" can still mean a player will go wider than expected.
When using a wide width, you players will use all of the space available on the wings, meaning the opponent's defensive line will be stretched, leaving more space between each other, allowing your team wider channels to operate in.
Players will have to make longer distance passes than in a narrow formation too.
Player traits like "dribbles through the center" can often mean a player you expect to play wide often ignores this team instruction every so often, so consider this when selecting your squad.
Remember that different formations will provide different levels of width as discussed previously.
Passing Directness & Tempo
These two instructions go hand in hand, but are easily misunderstood.
A short passing directness means that your players will pass it sideward and backwards quite often, whereas a direct setting encourages your team to make more forward passes towards the opponent's goal.
This shouldn't be confused with tempo.
Tempo refers to the speed at which your team pass the ball. Think of the difference between a slow low tempo song, and a high tempo drum and bass song.
A low tempo empowers your team to move the ball slowly around the pitch, waiting for the right moment to move forward and retaining possession.
Whilst this will increase your possession and create patience in your build up, it means your team can be quickly pressed down and may even lose the ball in dangerous areas. This speed suits a team with lower than average passing and vision attributes.
A high tempo keeps the ball moving quickly making it hard for a team to close your players down. It can also give your team speed in attacking situations, playing one or two touch football to break through your opponent's defensive lines.
Playing a higher tempo will mean that your passes are intercepted or go wayward more often too, so ensure you have players with great first touch, passing, vision and technique attributes.
Use Tighter Marking
When activating this team instruction, players will try and stick tighter when marking their designated player.
This is great for stopping a striker getting onto the ball and winning it back, but as your player follows the opponent, it can leave space in the area your marking player would usually be positioned.
I wouldn't recommend using this if your team have poor marking stats in the key positions like defensive midfield or at center back.
Setting Player Instructions
Some Football Manager players completely ignore player instructions when setting up their tactics – and that's fine!
Others like to tweak each individual player to really detail how their player should play their type of football.
You can select a player on the tactics screen, right click on them and select "edit player instructions" to get a window of options.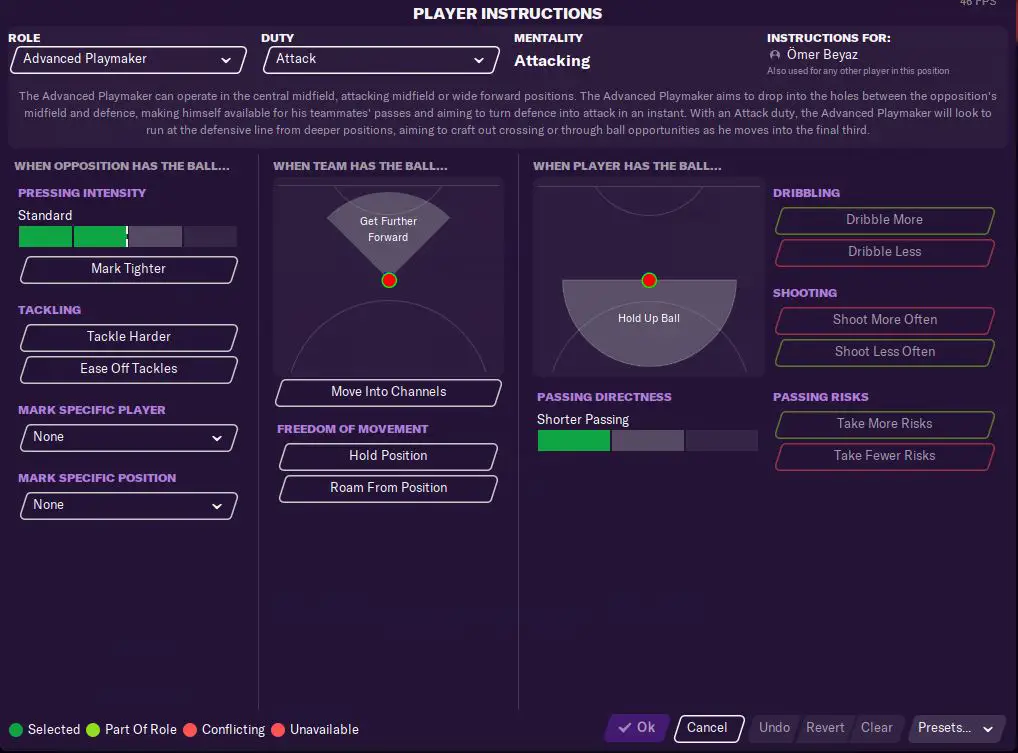 You'll see that some of the options are already activated. This is down to the player role set – each player role has its own default player instructions.
These options are pretty easy to understand with FM's descriptions, but essentially, if you'd like a certain player to do something more or less than what your team instructions are already implying, you can ask them to do that via a player instruction.
For example, if I'm defending with a low line of engagement and pressing intensity, I may want one of my players to press a bit more, or even mark a player tighter.
There's even an option for me in the bottom left of the window to assign this player to mark a specific opposition player during a match.
Very useful when you know an opposition player is having a lot of touches in a dangerous area.
The player instructions are there if you need them, but as I mentioned, they're not mandatory to set.
Adapt Your Tactic
Once you've played a few games with your shiny new tactic, it's important that you continue to tweak and update it as you go along.
You may need to adjust your tactics or instructions depending on how your opponent plays.
You can read about how to analyse the opposition here.
As you watch your team play, you may begin to notice that some things just aren't working out as you expected them. If that's the case, try the following…
Do your tactics/instructions match what you want to happen?
Is one of your players just not fitting into the style of play?
Have you considered what the weakness of your tactic may be and tried to limit the damage?
Keep an eye on the analysis data and xG data too.
Review xG in the first few games you play. It may be that your team have been unlucky with scoring goals or conceding at the back, and wouldn't be a fair reflection on just how well your tactic is working.
If you don't really understand xG, read our guide to expected goals here.
When you play the same tactic for a long time, over a period of seasons, it may seem like the AI managers begin to understand how to beat you.
As Football Manager develops over the years, this may become more of an issue as there seems to be a lot of debate in the FM community about whether this actually happens.
Nevertheless, it's important to ensure you buy the right players and make the right tweaks to your tactic as time passes in game.