You all know you should be doing it, but how often do you sit and have a good hard think about the strength and weaknesses of your opponents?
After the "Leeds Spygate" was uncovered in the Championship season of 18/19, there was a lot of shock about how much information is actually collected on opponents. However, for FM addicts, we already knew how in depth the analysis goes, but we're guilty of not taking action and adjusting our tactics when we receive analysis reports from our staff.
When upcoming matches are against teams that are of a similar caliber to your squad, knowing how to analyse your opponents in FM19 can help give your team the edge on the field.
Here's a list of all the factors you should be thinking about as well as how to take advantage of what you discover, providing you with a complete guide on how to analyse your opponents and their manager too…
Contents
Opposition Form
The first thing to check out is how your opponents are coping currently in the league or cup run. Often, this basic piece of opposition analysis goes ignored.
Head over to the team's page in Football Manager and click on the "Schedule" tab. This will obviously display all of the team's previous fixtures as well as who they have yet to play.
Take a look at two things:
How frequently are they scoring goals?
How frequently are they conceding goals?
This will give you an initial idea of whether you'll be facing an attacking team that worries less about their defensive duties, or the opposite of that, a team that focuses on building a solid foundation at the back.
Observe particular patterns and pay close attention to recent form. If your opponents have had a lot of low scoring games where they've hardly conceded, it's time to put together an attacking master plan.
If they're not too careful at the back and prefer to wipe the floor going forward, who's going to be a part of your brick wall cemented in front of your goalkeeper?
In our example below, Leeds have hardly conceded much in recent times. Other than one instance against Southend at home where they let 2 goals in, they've managed to be very successful at defending, averaging 1 or no conceded goals per game.
Take note: we need to understand how to break down their colossal defence.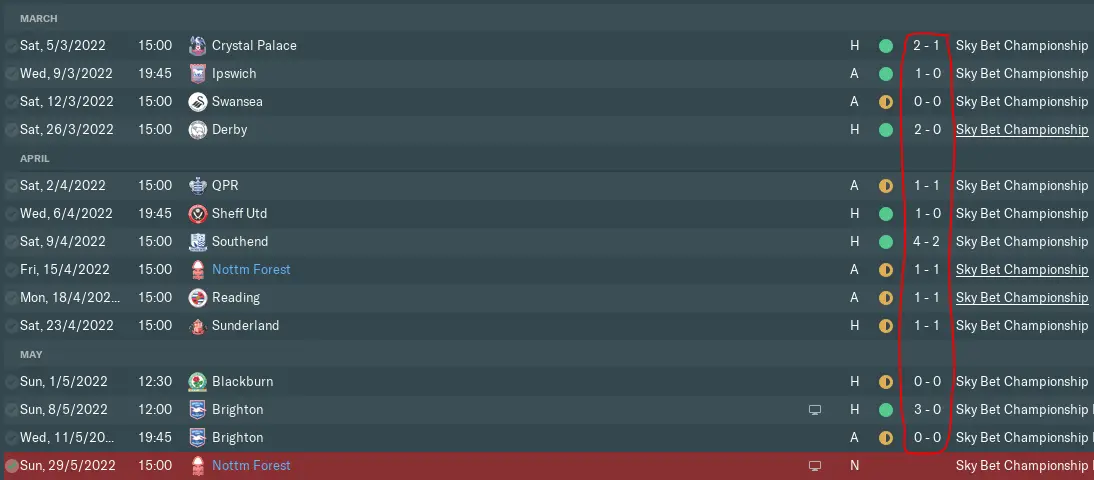 Analysing Your Opponent's Squad
When it comes to evaluating the opponent's starting eleven, it's best to wait until match day. Looking at their line-up any earlier may give a false prediction as players can get injured or be switched out for those who are more in form.
Until then, find out who the key players are that your opponents will look to utilize against you.
Stopping The Top Goal Scorer & Assister
Again, another easy piece of analysis we can do really quickly. These two stats are often included in scout reports and can be found in various screens on Football Manager.
In case you're struggling to find out who's providing the attacking firepower, go to the main team page and under the "Team" tab on this screen will be the Top Goalscorer, Most Assists and Most PoM (player of the match) Awards of the season so far from that squad.
Investigate who's deadly up front, and who's supplying them with the ammunition.
In the example here, we need to keep a close eye on in-form Ademola Lookman and figure out a way we can prevent him from hitting the ball into the back of the net.
With 24 goals so far this season, there is a serious need for us to stop Lookman getting into the game too much, especially near our box.

We know that Ademola Lookman is an extremely quick inside forward, that plays on the left wing but loves to cut inside for a shot on his right foot. His attributes, preferred foot and position all demonstrate this to us.
Also, look at a previous Leeds match report or highlights where Lookman scores and we'll quickly see just how he plays.
If you didn't know this, don't worry. We go into great depth about analysing specific players and their strengths and weaknesses below so you'll be able to figure out how each individual plays their football.
You can also scout specific players in advance. Check out our guide on how to understand a scout report here.

So how do we stop Lookman from getting a look in at goal?
With his fantastic acceleration, agility, pace, dribbling and determination, we need to be careful to not give him space to receive a pass. The more he has the ball, the more likely he's going to get moving towards our goal quickly, causing our defenders to panic.
With his low passing and decision making, it's unlikely he'll be causing too much threat as a playmaker on the wing. His main focus will be to run with the ball towards the penalty area.
We can also see he doesn't have much strength or even the ability to jump high in the air with a poor jumping reach and short height. The preferred foot detail tells us he's not comfortable with the left foot too.
Now that we've found some weaknesses, it's time to think about how we'll use our tactics and opposition instructions to reduce the risk he proposes.
Tactical planning
First of all, we'll need to consider who he'll be attempting to run past.
Our right backs include Danny Ward, or Leandro Bacuna. Both have the exact same jumping height of 12, and a height of 6'2. Danny Ward has higher stats in the Mental section, whilst Leandro Bacuna has just a little more pace and acceleration, but considerably less than Lookman's. As speed is Lookman's forté, I'll choose Bacuna to play at right back for the Leeds game.
Due to Lookman enjoying cutting inside from the left wing as an inside forward, we need to understand he'll be attempting to run between our right centre-back and our right back Bacuna, rather than down the wing. Therefore, we could opt to use our fastest centre back on the right side of our defence too, just to add a bit more security.
As the Leeds United top goal scorer isn't strong but causes the most threat to us losing a clean sheet, we'll ask our team to close him down much more, tackle harder and we'll even ask Bacuna to man-mark Lookman tighter too. We cover how to do this further in the guide, under how to set opposition instructions.
All of these tactical combinations should work against the Leeds star striker, or at least pose a massive problem for him in the game.
Let's see what happened during the match.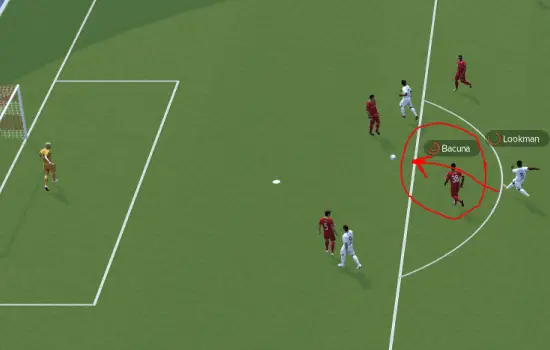 The midfield closed down Lookman quickly, following him around the pitch whenever he had the ball.
Bacuna was a constant nuisance for Lookman, but sometimes the pace was too much and Bacuna started to get left behind a little. In the second image, you can see Bacuna has completely left the right-back position to apply lots of pressure on Lookman.
Due to the constant pressure, Lookman didn't score during the match, suffering defeat to just a few shots from outside of the box. We managed to keep a clean sheet, picking up a 2-0 victory.
Analysing the defence
Check out each player that makes up the back line, paying attention to:
Acceleration
Agility
Pace
Stamina
Jumping Reach
Composure
If there are slow full backs or centre-halves, you may want to employ strikers to play that are full of pace and speed. Your goal scorers will be able to run behind the back line with ease and latch onto passes that are played in between the lines or arrowed over the top of the defence.
Selecting your fastest wingers to take on slow full backs will allow them to do lots of damage on the wings. Setting your in possession tactical instructions to play down the wings in this instance should provide some positive outcomes during the 90 minutes.
If the defence is rather speedy, look at how you can create space around those players to get the ball past them. Overflow the wings with your full backs, wingers or mezzalas to help get behind them. This should tire the speedy full back out with constant chasing.
If their backline have towering height and superb jumping reach, it may be a good idea to think about how you're telling your team to cross in the ball. A low cross would be a suitable tactic to use as it's unlikely your strikers are going to win headers for the majority of the game against a center-half that's capable in the air.
If they are small and not so good at reaching floated crosses that are waiting to be plucked out of the air, use a target man to take advantage.
If their defence is low in composure, consider using high pressure to force the back line into making mistakes that your attack can pounce on to create chances.
Set the line of engagement to very high to do this and increase your pressing setting to much more. Alternatively, if you're just targetting specific players, enable the "always press" option in the opposition instructions screen.
For center-halves and full backs with low stamina, perhaps increasing your attacking mentality towards the end of the game will bring rewards in the final moments of a match once they're tired. This is a little riskier though, especially with time ticking away, and the manager always has the option to substitute a player who looks exhausted.
Analysing the midfield
Look carefully at each player in the engine room of the pitch and in particular their below attributes:
Concentration
Natural Fitness
Passing
Vision
Tackling
Long shots
To get definitions of all of the attributes within Football Manager, read our guide on player attributes.
As the match goes on, players can often lose concentration, not being aware of what's around them and how much time they have on the ball. In the later stages of the game, it may be worth pressing these players who become a little clumsy to try and win the ball back much more often.
If they're lacking natural fitness and stamina, again, they're unlikely to be making thrilling runs forward and bombing down the pitch with the ball at their feet. Try tackling harder if you need to get the ball back quickly.
Players with poor passing and vision tend to hit wayward balls often. This means their manager or head coach may ask them to play a shorter passing game to retain possession.
Think about how your team is going to cope with less direct balls being played. Shorter passing is better for retaining ball possession and shuffling the ball up the pitch, whilst more direct passing is about long balls over the top or through the lines of midfield and defence.
Usually, there are one or two players that make up the midfield to win the ball back with a high tackling attribute. Orchestrate your team to avoid going near these players if possible, especially if the opposition midfield have a good work rate. They're probably going to be snatching the ball off you otherwise.
Long shots are dangerous. Players who have a good long shot attribute should be closed down more quickly and even shown onto their weaker foot to avoid a screamer from outside of the box being fired into the back of your net.
Analysing the goalkeeper
Looking at some of the goalkeeper's attributes and style will also help us to get a slight advantage too.
If they're using a sweeper keeper, their goalkeeper is more likely to get involved with the passing around the back. If they've not got great composure and passing attributes, try asking your team to prevent the goalkeeper from distributing the ball quickly.
This should force them into making mistakes such as kicking the ball out of play or even to your pressing strikers.
An in-form goalkeeper that is superb at one v ones may just stop you from scoring a crucial goal. Could you play two strikers up front close together so that there's more options than running directly into a one v one situation?
Other player weaknesses
The age of a player can be significant in targeting a weakness.
If they're just a teenager or even less than 18, it's worth taking note that their mental and technical attributes are more than likely not going to be very good – obviously, there are exceptions to this.
If they're a full back, then perhaps you should focus on playing down the wing they're occupying and overloading them.
Are they a striker? Focus less of your attention on them if you think they're not going to consider a threat up-front.
During the match, you can view both your own team and your opposition's body language. Footballers who haven't played many games or are in the first few games of their senior career may appear to be nervous, especially during a big match.
Is there someone starting who's just returned from an injury or hasn't quite yet fully recovered?
Tackle them hard, see if you can provoke a reoccurrence of the injury and force the opposition into making a substitution.
Get quicker players to dribble past them with ease if they're struggling to keep up with the tempo of the game and are lacking energy.
Analysing Player Roles
Looking at specific player roles on the opponent's team will illustrate the type of football they'll attempt to play. Combining this with the preference of the opposition manager will help us build a picture of the tactical setup.
Once we've received the scouting report from whichever scout has been assigned to the scouting of next opposition, we should be able to see typical player roles of our opponents lineup.
We can't see their specific defend/support/attack duties, so will have to combine this with looking at the opposition manager's preferences to get a more in-depth understanding of how each player will move and try to play across the pitch.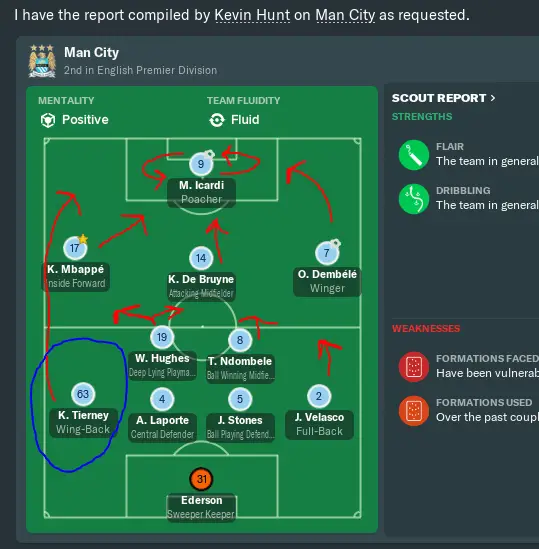 I've quickly highlighted some of the key movements I'm expecting the opposition to make during a typical match. Just by reading what each role does when setting up your own tactic and player roles will allow you to work out where your players will typically position themselves on the pitch.
Look at the red arrows in the above image and imagine the players following each arrow on the attack or at least running into a similar place on the pitch. This allows for us to identify space that's left open.
In the blue ring is a potential area for us to focus a counter-attack as Tierney is likely to push forward out wide when Man City are in possession.
I could ask my team to play down the right wing, give my right winger an attack duty or even ask my goalkeeper to distribute the ball quickly via a long kick to the flank. This may present many counter attacking chances for us to score a goal.
Countering a specific player role
Partnerships with other players will form all over the pitch, some wing backs will bomb forward from defence, whilst a striker can come deep to support the team and drag a man-marking defender along with him.
If their team has the asset of a tempo setting playmaker, should you man-mark them? Perhaps they've got a winger who's one footed that you may decide to show onto their weaker foot to limit their damage.
If an opposition winger and full back are inverted, they will sit much narrower or make inside runs to the center of midfield when they have the ball. This indicates a potential for one of your own players to exploit the space left behind them on the wing.
How will you change your own player roles to take advantage of the space given?
Turn a CM into a Mezzala and they'll run into the half spaces between the center of midfield and the edge of the pitch to fill the empty space.
Ask your winger to have an attacking duty on the side where space is, they'll stay further up when out of possession, ready to race down the wing for a counter attack. However, remember your winger is less likely to defend in these circumstances.
Ball winning midfielders tend to press more and win the ball back in the midfield. If you've got your key playmaker positioned near to the ball winning midfielder on the pitch, they may be less effective with less space to play in because of the closing down. Consider changing the side of midfield that your playmaker sits in.
If your opponent has a striker that likes to drop deep to get the ball, it may be wise not to man-mark him. Imagine a Barcelona team where Suarez the central striker drops deep to collect the ball from midfield and your center back follows him, stepping out of the defence line. Messi may notice the gaping hole in the back line that's been created and swoop into the space to run through one on one against your goalkeeper if a suitable through ball pass is made.
If an attacking midfielder is sitting behind a poacher or advanced forward, the below video highlights a problem that Bayern Munich faced in real life that you may want to consider.
Think about how each player role works in theory, simply read their descriptions to get a good understanding of their movement with and without the ball.
Hopefully, you'll be able to start seeing spaces to exploit, and the game won't have even kicked off before you've informed your team about your tactical masterclass and how to take advantage.
Opposition Manager Analysis
Looking at who's running the team we'll be facing can provide an "under the hood" view of what to expect before we get anywhere near match day. There's a range of preferences we can look at on the manager's screen that will be worth taking a look at and reacting to appropriately.
To find out about opposition managers, go to the main team screen for your chosen opponent and click on the manager's name under the "Key Employees" tab. This will transition to a screen of the Manager's profile.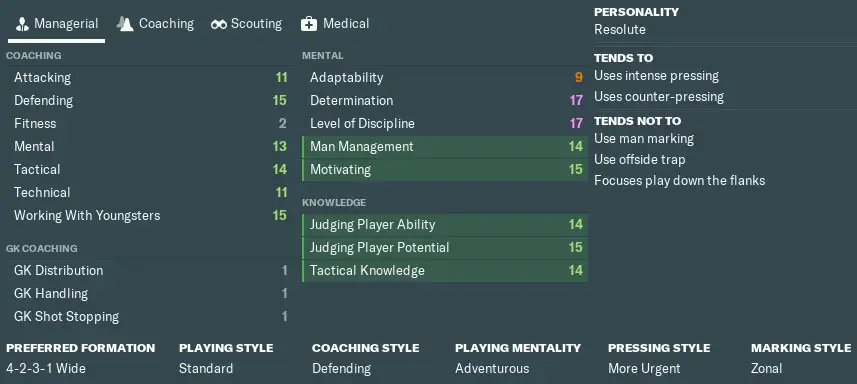 Coaching Style
Taking a look at the opponent manager's coaching style can give us a very good idea of how their team will set-up in terms of formation and mentality.
Preferred Formation:
Football Manager players are certain that the manager's preferred formation is the one they will use for their starting XI almost 100% of the time. Of course, during the match and the circumstances within the game, the head coach can change this around to try and get the best result from the match. This is a free ticket to seeing the formation your team will be playing against.
Playing Style:
This is the key way the team operates out on the pitch. A Pep Guardiola team is focused on an intricate "passing" style, working the ball through the lines, switching the ball around in shorter distances. Tony Pulis, on the other hand, has a playing style of "long" which means the passing will be more focused on pumping the ball longer distances around the field. This suits less technical players. Often a manager's style will be mixed, using all distances to exploit opposition.
Coaching Style:
Usually, based on the coach's highest coaching attribute, the coach will train his team in a style that reflects what he knows best. Jose Mourinho's of the world will coach a "defensive" style, whilst Pep Guardiola's style is "tactical", working on his team's mentality and decision making to break down the opposition.
Think of some well-known managers and how you think they'd coach their team, search them in Football Manager and find out if the game agrees with you.
Playing Mentality:
Like the coaching style, playing mentality fits in with how the team's style of attack will play out. Adventurous teams may play more direct and with lots more expressive play and flair when in possession, pumping the ball forward like a rock n roll Klopp side. Tony Pulis has a "cautious" mentality, not wanting to get too many players in his team up the pitch at once, preferring a more compact defensive approach. Some coaches are more "balanced" with their mentality, deciding on a game by game basis how they'll approach it.
Pressing Style:
You'll get to know whether you're up against a team that enjoys parking the bus, maintaining their shape, and letting you make strides towards their compact space or a team that won't let your players have a moment to think about what they're doing when in possession. Again, a Jurgen Klopp pressing style is "more urgent", Carlo Ancelotti prefers a more balanced approach, and referring back to Mourinho you'll get a "mixed" style.
Marking Style:
During the defence of set pieces, you can find out whether your opponent's manager enjoys a more zonal marking tactic, or a man marking system. This can be useful to plan your own set pieces to gain an advantage from a dead ball.
Tends To / Tends Not To
These are similar to player preferred moves or traits. These attributes give a personality to each coach in the footballing world, showing how they react to particular situations within games, how they manage their whole squad and the ways in which they strive to conduct transfer business.
Below are Jose Mourinho's tendencies.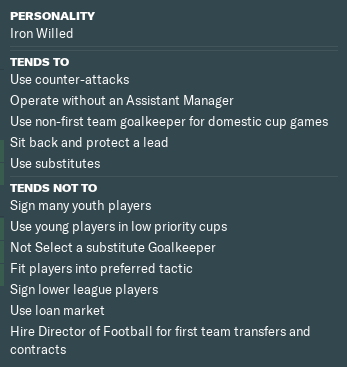 Here are the key factors for match game plans that we should be aware of and examples of how to react when facing one of his sides.
Tends to
Use counter-attacks: keep more players back during set pieces
Use non-first team goalkeeper for domestic cup games: apply higher pressure onto a goalkeeper that may be nervous after not playing many games
Sit back and protect a lead: try not to concede first, start with a more defensive mentality.
Use substitutes: pretty straightforward,  think about things such as if subs are made early, be careful they don't overrun your tiring midfield with the new energy brought onto the pitch.
Tends not to
Use young players in low priority cups: expect an experienced squad during cup games and don't be complacent with your own starting eleven if early on in the cup run.
Fit players into a preferred tactic: look out for a player that may be positioned somewhere unfamiliar, put them under pressure and try to encourage them to make a mistake.
There is a variety of tendencies that Mourinho doesn't have that you'll find in others, but you should be able to think about how to set-up your team to take advantage after reading the José examples above.
Last Match Report
Taking a look at the last match analysis report can give us plenty of analytical juice to drink up. I've picked out some important sections to get an understanding of that will really help with planning your tactics.
To find the Last Match Report, go to your opponent's team screen, click the Schedule tab along the top and you'll be able to see the senior team's previous and upcoming games.
Select their previous game followed by View Match in the bottom right under the list of their player ratings. Click the Analysis tab and select Teams, this will generate the match report. All that's left to do is select your opponent's team name to change the view from Both.
You should receive the Last Match Report from a data analyst a couple of days before the game. This will highlight how the match unfolded and how balanced the match was, but not all of the exciting bits are on display in the report overview.
Passing combinations
Working out who's maintaining the possession and working the ball around the pitch can be a fantastic way to take advantage of your opposition.
We can cut off the supply lines with just a few simple instructions for our players to help disturb the oppositions' passing familiarity.
In your opponent's last match analysis screen, go to Analysis > Teams > Passing and tick the "Select All" box for the passing tab. This will display all of the passes that happened during the game.
We just want to look at our upcoming challenger's passing combinations, in my case Leeds, so ensure you've selected their team only.
Next, turn off all of the passing differences other than combinations. Select the drop down box to the right of the passing combinations and you'll be able to see who gets most of the ball and to which players they're passing it to and receiving it from.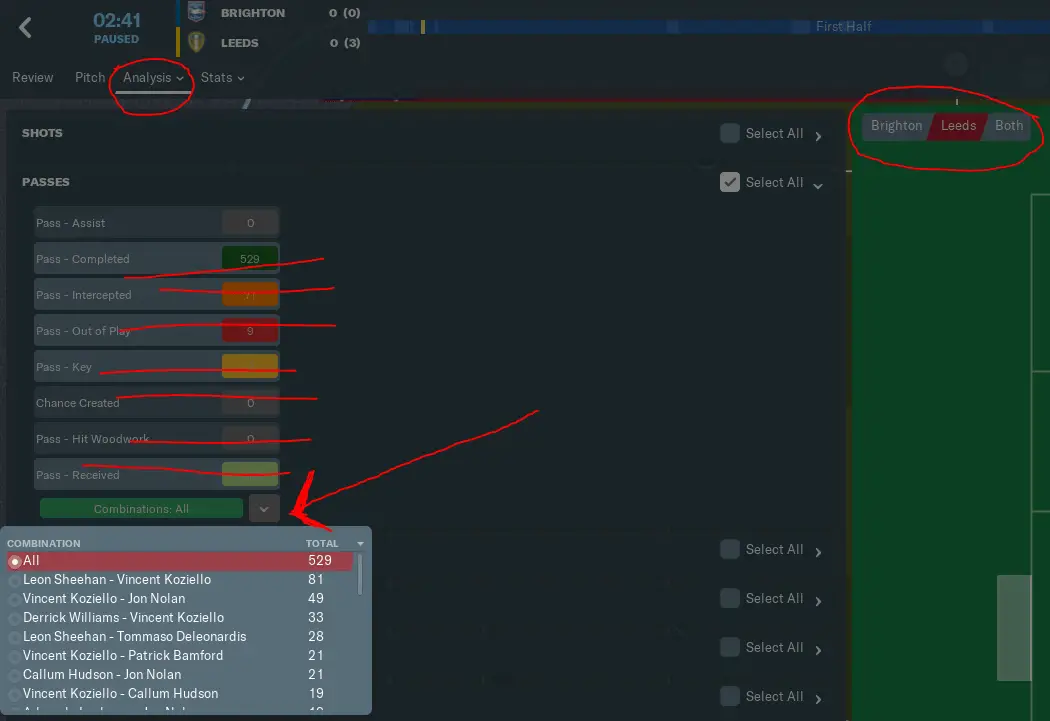 Taking a look at the top 3 passing combinations should be enough unless there is one player in particular that keeps appearing in this list. This should prompt us to investigate how we can get this player off of the ball.
In our Leeds United example, Leon Sheehan is linking up with Vincent Koziello a lot. Those two players are combining far more than any other players in the team.
There is a pattern in this combinations list which we can clearly see – Vincent Koziello's name is appearing in 4/5 of the top passing combinations in this example. How are we going to stop him from being a key distributor when we play them?
If you're unsure of where these players are positioned on the pitch when making these passes, select a combination from the dropdown list and the match pitch area will populate with arrows highlighting the passing combos.
This will give you a good understanding of which players are in which positions and an understanding of the direction of passing.
To combat their passing combination, I'll be asking my team to mark Vincent Kozielleo much tighter. In my tactics, I'll employ a player who sits near Koziello on the field to man-mark him too. Remember that if you're asking a player to man-mark, they may get pulled out of defensive position. Also, we'll tackle him hard and won't give him any space.  Hopefully, we should see the possession stats fall apart for Leeds.
Having a more in-depth look at Vincent Koziello's attributes in the below screenshot, we've found that he's very composed, has fantastic passing, vision and technique, as well as good off the ball movement and agility.
In my head I imagine this player to be a small and quick turning playmaker that sets the tempo for the game. No wonder Leeds are using him to create a whole network of passing combinations.

Here's a look at the Leeds passing combinations after I told my team to mark Koziello tighter, tackle harder, close down much more and show onto his weaker foot. I also asked my attacking midfielder (Carlos Alena) to man mark him and tackle harder too.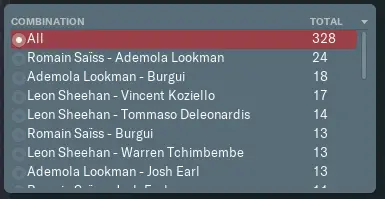 The result was that Vincent Koziello had little effect on the pitch. He's only mentioned once in the list of most passing combinations, meaning we closed down his passing game significantly.
Tackles
On the Last Match Report go to Analysis > Players and ensure your view is selected to your opposition only.
You'll be able to find out which player is responsible for winning back the ball and breaking down attacks in the Tackles stat section.
Understand where the player is positioned on the pitch and how you're going to avoid playing in an area which makes you vulnerable to a key tackle that breaks up your play. Instruct your team to play down the wings if they're sat in defensive midfield for example.
Crosses
Is there a specific player that is making lots of successful crosses? Well tell your team they need closing down to limit the threat of dangerous balls being whipped into your box.
If there's hardly any crossing stats showing, perhaps they're not set up to play in lots of balls from the wings and you should be more focused on how you'll stop them playing through the middle of the pitch with through balls along the turf.
Aerial Duels
To judge where we'll have most success winning headers, take a look at the aerial duels screen to see who's a tower in defence.
Here's an example of a potential weakness we can exploit! Leon Sheehan lost six aerial duels and won none.
Leon is a small right back but very quick running around the pitch. Luckily for me, I have a 6 ft 2 winger that likes to win headers but also has a nice bit of pace too. Therefore, I'm going to play lots of floated crosses to the far post to see if he'll manage a couple of headed shots, beating Sheehan in the air.
Asking your tall players that are good in the air to mark smaller players can often be a great strategy to win the ball back throughout a match – especially when they're playing long and direct.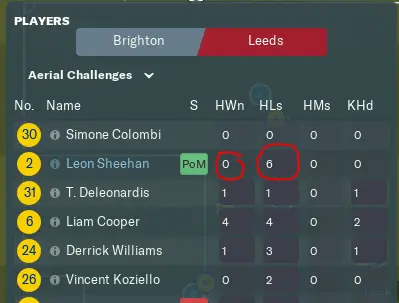 Possession
This report is a little similar to the passing combinations we've already discussed. Ultimately, it shows us who's having the most touches during the match, and these are the players that we'll want to close down or man mark.
If there's a player that's notably lost possession much more than his teammates, they may be struggling to be confident when on the ball. This gives us the opportunity to pile the pressure on via high pressing and tackling harder.
Opposition Scout Report
Your scout that has the pleasure of your "scout next opposition" assignment is going to hit you up with a report up to a week before your game. When fixtures become crowded, they'll often pop one in a couple of days beforehand.
On the scout report, you'll be able to view mentality, team fluidity, the player roles, and a starting eleven prediction. A star next to a player indicates they've got the highest average rating in their team and may hide the goal icon which means they're the top goal scorer such as Lookman below. Alternatively, you'll see a more faint ball with a tiny "A" to the bottom left that highlights the team's top assister like Leon Sheehan has.
The scouting report will also bullet point the team's strength's and weaknesses, commenting on various points about the squad, some of which will be useful to us and you may not have considered.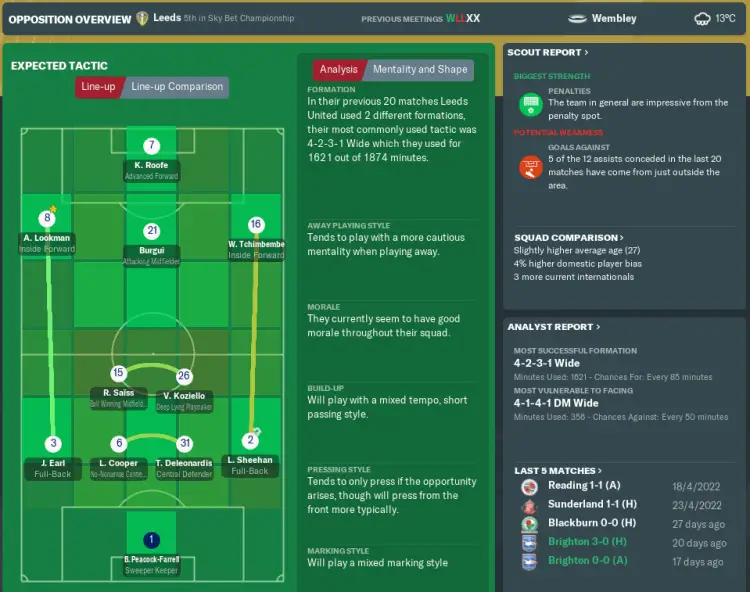 Click the "Scout Report" button to get into greater detail. Here you'll discover key information that will be handy when planning a tactical approach. A lot of this is covered in this guide so I won't repeat it.
Click "Scout Report" again and we'll get even more info summarised for us to just glance at.
This is especially helpful when we don't want to spend too much time on performing analysis, if we did tonnes every game we might find FM to become a little dry, but each to their own.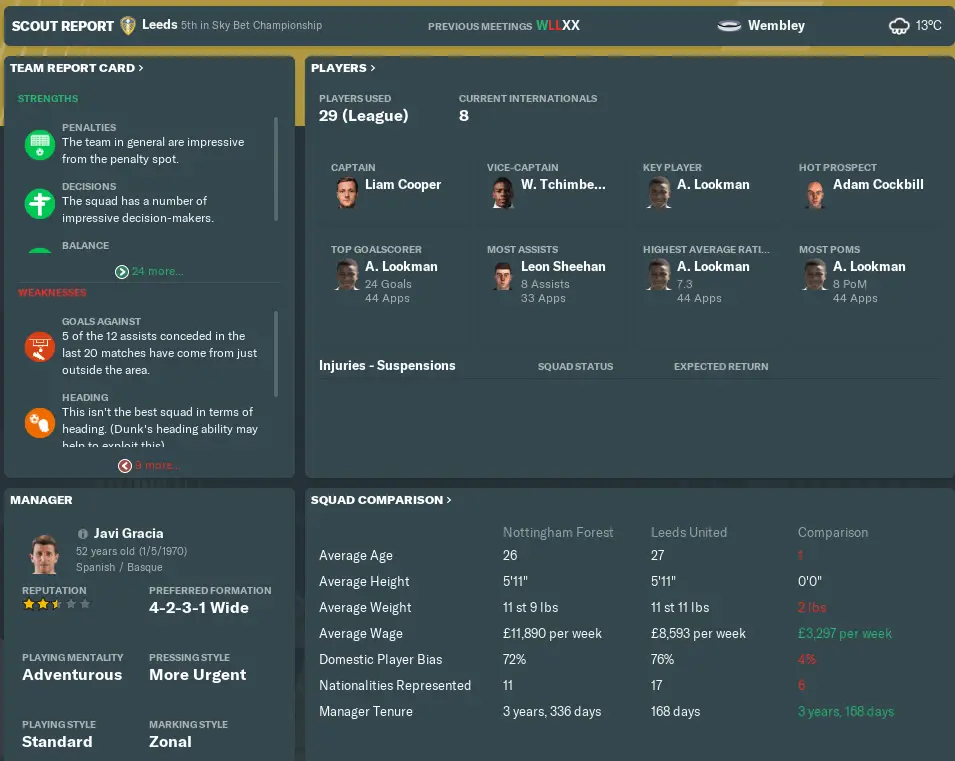 Something we haven't really discussed is the Team Report Card that bullet points all of the team's generic strengths and weaknesses. This report is pretty much the equivalent of your own team report. If you've not really paid any attention that that report before, it's good to look at as the game is telling us what it recognizes about our squad.
Often as FM players, we use our own real-life examples of what's happened in the footballing world to build a picture in our head of how good players really are – often it's easy to be dragged into discussions where everyone has a different opinion about the quality of a player.
This screen literally tells us the quality of our players and how they will play in game, the only opinion we should care about when playing Football Manager is the game's opinion.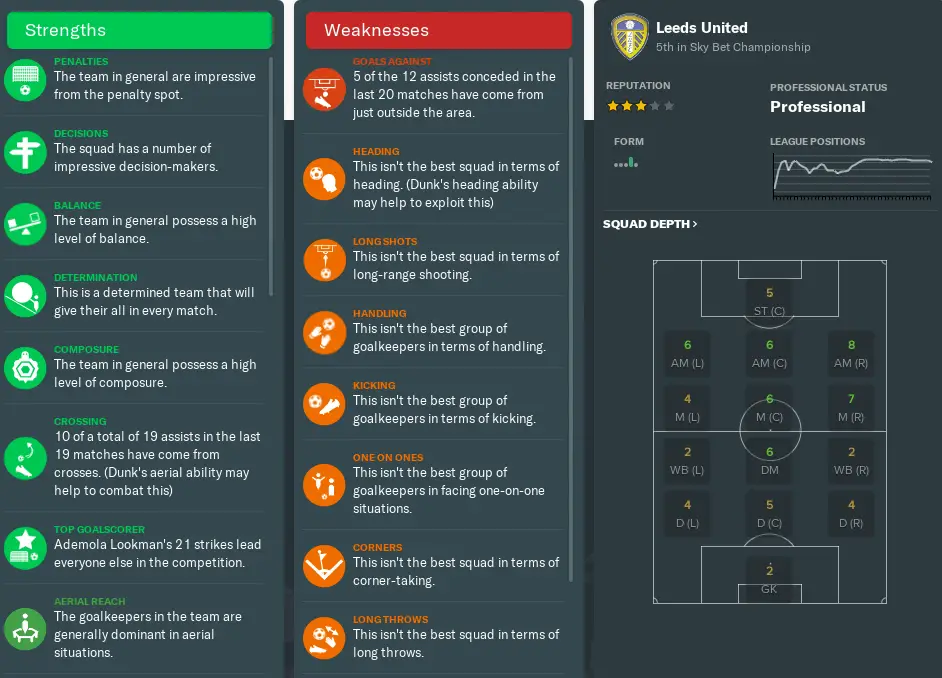 Using this report gives us the ability to quickly find out almost all of the key points talked about throughout this article.
Setting Opposition Instructions
You might be thinking "well how do I set opposition instructions in my tactics?" and you're going to find out. Here are some of the main ways I instruct my team on how to exploit weaknesses and prepare against strengths.
Overall instructions
Wait until matchday to get a better idea of which players will be available and selected.
Go to the Tactics screen and click on the Opposition Instructions tab. Your assistant will provide some initial thoughts, but this is the time to use all the notes you've been taking from each of the areas within this guide to school your team on who to press, mark, tackle, show onto a weaker foot, or who to avoid worrying about.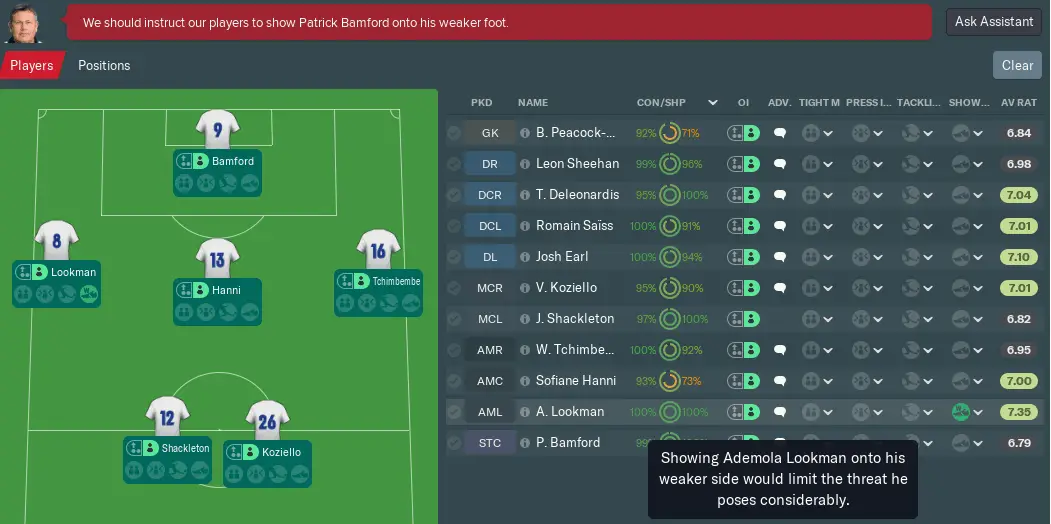 Remember, we don't want to overload our players with opposition instructions, just some key changes to ensure they're helping to stop the oppositions main advantages. Otherwise, things will get extremely confusing.
Under the Adv or Advice column will appear little speech mark icons depending on who's in your staff. They'll give snippets of advice that may be useful to take or at least consider taking.
There is a column where the instruction set applies to all players in that position if selected, it usually is by default, but you can change this if its one specific player you care about. If they get subbed off or move position, your player will go back to the default instructions.
On this screen in the right-hand-side column, you'll find some more detail that the scout report should have pulled out for you too.
Player specific instructions
If you want just one of your players to man-mark someone specific or encourage them to press much more, go to the main Tactics screen and right click on one of your players that are in the formation on the pitch area. At the bottom of the menu will be "Edit player instructions" which will bring up a screen to allow for more customized options to disrupt your opponent.
For example, if I want my attacking midfield to make sure the deep-lying playmaker doesn't cause any issues for us, I'll ask him to have more urgent pressing intensity, mark tighter, tackle harder and most importantly, ask him to mark a specific player. In this case, I've chosen the player who sits near him on the pitch and will cause the most issue with playing lots of passes and setting the tempo.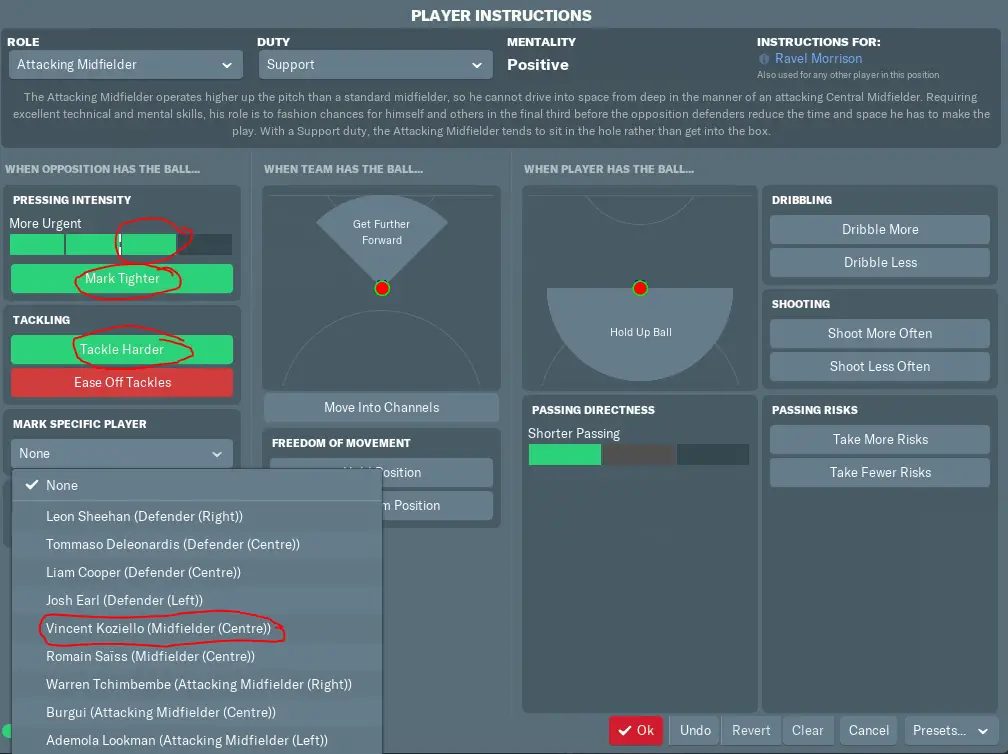 Don't worry if you forget to set these before the match, as everything can be amended within a live game, so make sure to check every 20 minutes or so via the analysis to see if there are any player instructions you could use to help stop your opponents.
Morale, Personality and Body Language
Taking a look at their squad's morale will indicate how positive they're feeling.
A team in high spirits combined with strong form will provide a tough challenge in the match, as going a goal down won't damage their determination too much. Whereas a team that's struggling to win games with poor morale should allow for an easier 90 minutes in comparison. I sometimes decide to go more attacking against teams with low morale.
Getting a feel for the opposition's average determination attribute will indicate how hard they're going to try and turn the game around if they do go a goal down. A team with high determination attributes will work hard to overturn the deficit meaning you'll need to be careful during the whole length of the match, even when you're a goal ahead. Determination is often talked about in a team's report card.
Use the media to try and upset the opposition squad's morale.
During the match, monitor the body language and morale of each of your opponent's team. The more nervous or unsettled a player looks, the more prone they'll be to making a mistake. Try setting your opposition instructions to press more and tackle harder to force a nervous player into making a mistake. Body language is often a great signal of things to come from a player in a match.
Pitch Dimensions & Conditions
Size Of The Pitch
Your groundsman will approach you during pre-season to ask what size you'd like the field of play to be set to. Whilst there is some basic information to help guide your decision making, the sizes are relatively all similar with only some minor change to each distance.
A smaller pitch can cramp up the amount of space available. This gives teams who like to pass the ball in shorter distances more control. Smaller sizes reduce the amount of space for strikers to run into behind the back line for clear cut chances too. It's best to ask your team to attack wider and play down the wings to open up pockets of space in these circumstances.
Larger areas of play can be more threatening for direct teams that like to pump the ball into space that pacey wingers or strikers can latch on to. Your team may need to have more natural fitness with higher stamina to play all season on a wider, longer pitch.
Weather Forecast
The weather can affect two things. There's no real certain way of being sure how this affects the game, but it will play a part in the match:
How quickly the ball moves across the turf
The energy of the footballers.
The ball speed will be reduced if the grass is dry. In modern stadia, the grass is often dampened by multiple sprinklers across the pitch. This allows the ball to zip around the turf, suiting teams that enjoy playing their game on the ground with high tempo passing.
If the temperature on the Match Preview screen is high, consider the ball may move slower as the pitch is likely to dry off. This will suit a team that enjoy lofted direct balls around the pitch, especially teams with tall players that can nod the ball on to one another. Obviously, if it's raining, the opposite applies.
Footballers often become tired quicker in higher temperatures. This isn't a massive factor in the game as far as I'm aware, but it's something to bear in mind if your team play with a high intensity, or if your opponents are playing in that manner, as you may want to outrun them towards the end of the game if you conserve your substitutes or have a naturally fitter squad.
Pitch Condition
In some leagues, the pitch may be torn apart, be artificial grass, or be in perfect shape. There isn't too much to explain here in terms of gaining a tactical advantage as more modern leagues tend to have good turfs for the modern day game.
It may matter more if you're taking part in European or Worldwide competitions and you're going abroad to a league with a completely different reputation. Pitch condition is very similar to the way the weather can affect a match:
A pristine pitch will be more suitable for shorter passes along the turf.
On the other hand, a poorly maintained football field will cause more shots and passes off target, as the ball will be more likely to bobble just before a player makes contact, reducing accuracy.
You may want to advise your team to play the ball more direct to encourage longer balls to skip out rolling along an unlevel turf.
Referee Strictness
This isn't directly related with analysing your opposition in FM19 but it can be a factor to consider with regards to your tactical approach.
Before a match, we can find out how lenient or disciplined a referee's approach has been on average throughout a season. If a referee is more lenient, tackling harder is less likely to be punished, whilst a referee that is strict could force us to ask our team to stay on their feet and not lunge in for risky tackles.
To find out referee stats, await an inbox message that usually arrives from your Press Officer if you have one. In the bottom right of the email, you can find options to go to Referee Stats, Past Meetings, and the League Table.
The Referee stats will display all of the league/cup's main match officials, the number of cards they've been dishing out as well as an average rating. You can find a real-life example of the below screen for the Premier League here.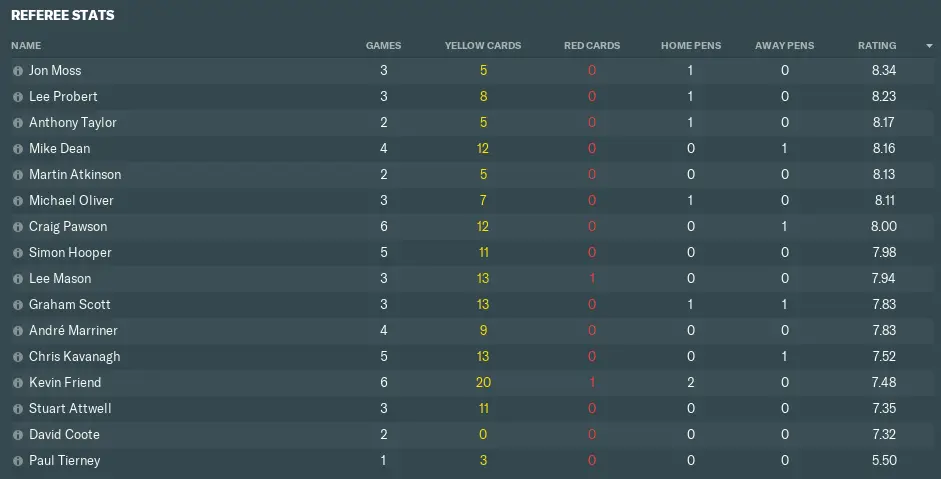 To find out the average number of cards your match official has had throughout the season, you'll need to wait until matchday to find out which ref has been assigned to your game. This can be viewed in the Match Preview screen.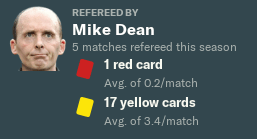 Mike Dean has been averaging 3.4 yellow cards per game.
The average amount of yellow cards per game in the Premier League in real life is 3.16 for the 18/19 season.
For red cards, the average is 0.1 per game.
What we can take from these stats is that so far this season, Mike Dean tends to dip into his pockets more often than the real-life average. Therefore, we could decide a cautious tackling approach is best in our next game.
Summary
Hopefully, that's everything you'll need to gain an edge on your opponents throughout your season. Whilst analysis can take some time to go through and put effort into, you'll decide what works for you and what doesn't over time. A lot of Football Manager players only tend to perform deep analysis for big games where a loss is just not an option.
Alternatively, if you believe your squad and tactics are good enough, you may not want to do any opposition analysis at all as your quality may just be simply too good for your opponent.
Don't forget to share with any other keen FM'ers out there who may be struggling. If there's something I've not included here or if you have any further questions, please don't hesitate to comment down below.
---
Read more Football Manager guides:
---