We've all found that super wonder-kid regen in Football Manager, spent the time and effort nourishing him, interacting with him and praising him way more than our other players in the hope that we become their favoured personal with a great relationship dynamic.
But, there comes a time, where we also begin to question just how long this player will stick around before wanting to leave for a bigger club. The thought never leaves your mind as a football manager.
Suddenly, PSG scouts are appearing at your matches, and in a few weeks your player demands a transfer.
In the guide, we'll look at how to stop your star player leaving and causing uproar in the dressing room.
1) Negotiate A Contract In Advance
Like many things in life, the best cure is preventing it from happening in the first place. You want to keep your wonder-kid right? Therefore, give him no choice to leave before he is even being scouted by opposition.
Let's say you've just signed your star regen, he's 17 – 19 years old. The likelihood is that his agent has put in a release clause. Bump this up as much as you can when initially offering to sign the player.
You may have to sacrifice some of the wage budget to accommodate that you're asking more from the deal, but it'll be worth it in the long run.
If you don't have the wage budget, try adding a goal bonus clause or wages after X amount of games clause if you're expecting to be financially better off going forward.
Having a higher release clause will decrease the interest from other clubs who could potentially be interested in signing your player. Without any interest, the player will never want to move to a bigger club.
But what about if teams with lots of money are willing to pay the release clause…
2) Renew contracts for star players regularly
This is definitely something I have fallen victim to in the past, out of laziness. With only 1 year left on contracts, players can run down their contract for the next 6 months and essentially pre-sign for free somewhere else with 6 months left. This means their valuation is a lot less as time ticks on in their contract.
If your key players are within 2 years of their contract ending and you don't want them to get snapped up by a bigger club, it's time to renew. Renewing a contract will again force clubs to lose interest.
What can happen upon renewal is the agent will suggest a lower release clause as the player begins to fulfil his potential. The agent knows how good his client is so will do the best to get a low release clause into the contract so that the player can make a move to his preferred club in the future. Again, negotiate this number hard.
Of course, with a new contract will come higher wages. Unfortunately, you're going to have to again be a good negotiator, but inevitably if your player is a key figure in your team, contributing lots to the defence, midfield or attack, the wage hike is going to be worth it in the long run.
Another thing you'll want to try is increasing the amount of years you'll be signing the player for.
Getting them to commit their long-term future is a great way of stopping the bigger clubs swoop in. It also maintains the valuation price of a player, meaning those financially rich clubs will have to overpay to buy them early in their contract.
3) Triggering An Extra Year
FM20 agents hate this one sneaky trick to keeping your best player.
One of the best tips I've seen is to add a clause in the players contract that allows the club to automatically renew a player's contract for an extra year or more. This could mean you could provide a contract for up to 7 years long in some cases.
When negotiating a new contract with your star player, ensure you're adding in contract extension clauses that can be triggered by you as the club, or perhaps once the place has played so many games. This will allow you to extend the contract of the player without their permission, meaning they'll appear less attractive to clubs that are trying to make a new signing.
Sometimes players aren't keen to tie themselves down for such long periods though and in contract negotiations may reject a deal that includes a club being able to trigger another year or two. Especially if they realise they have bags of potential. In these circumstances, the player will treat the club as a stepping stone and aim to perform their best for you with the intention of attracting bigger clubs.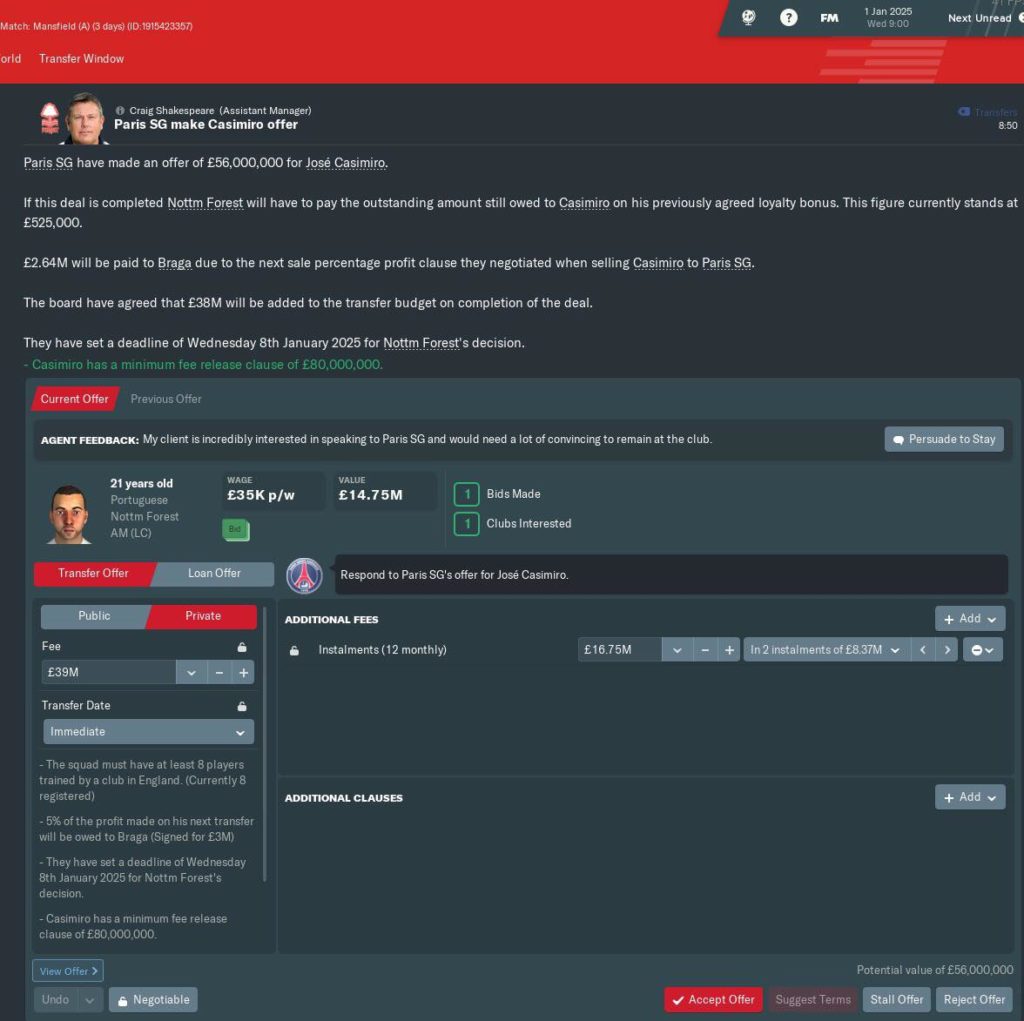 4) Promises
When a bid comes in for your player to be transferred, you'll be able to see some information regarding the agent's opinion on his client.
Of course, in circumstances where a bigger club is making the bid, the agent will often report that his client is extremely interested in joining the bigger club and will need of lot of convincing to stay.
At the end of this text, you'll be able to enter a conversation with the player in question, allowing you to have the opportunity of persuading your player to remain at the club.
There are so many options to select, but ultimately, you're most likely going to end up making a promise if the club bidding is too attractive to resist. You'll need to try and understand whether the player is excited by the move because they'll be earning more money, or whether they'll be player in a better competition.
Select a promise that you think will satisfy the player, but don't disrespect them. The more professional their personality is, the more likely they'll want the move to be playing in a better league, rather than a wage hike.
If you know you're going to make a signing that will improve the overall quality of your team in the near future and you think that will make the player who's in demand happy, promise the player you're going to bring in more quality in the respective position. This is an easy way to fulfil a promise, just make sure you actually do it…
5) Reject Everything
No matter what you try, sometimes clubs are still going to bid for your player, even under their release clause.
This is to try and unsettle the player. By declaring they're interested, whether publicly or not, the player and agent will know about the bid. This will instantly get them thinking about the move to the bigger club. If you keep rejecting these bids, eventually your player will ask to speak to you regarding the bid and why you haven't accepted it, as it will give them a chance to increase their wages or play in a more reputable competition should you accept.
Be as nice as possible to your player and explain you're not for sale, at least not yet. Depending on the personality of the player, they will either become extremely angry or if they're more of a professional, their morale will still drop, but not as much.
Keep on rejecting any bids, eventually though the player is likely to hand in a transfer request to get their move. As time goes on, the other players throughout the squad may become unhappy with your treatment of the player receiving bids. You must manage the squad effectively in your interactions with them to try and not upset them.
If you manage to get through the transfer window without accepting a transfer request or upsetting your team, your player may have lost interest by the bidding team. This will effectively kill off the transfer saga and allow you to sign a new contract with the player. Alternatively, they'll be unhappy with the treatment they've received and the relationship may be ruined. It's your choice whether to leave this player in the reserves rotting away, or whether you can progress on with the season, over achieve and win over the player once again.
Summary
Ultimately, it's very difficult to hold onto your star talent. If you're new to the game, it can be very difficult to get your head around and will almost feel like you're being punished on occasions. This is what being a football manager is all about though, and the realism is definitely there with this part of the game.
As you can gather from the tips above, plan ahead. Predict the future with great anticipation, and you'll have better success at keeping your high potential players at the club. If you know that you're after a big signing, going to improve the coaching team or even make a really strong finish to the current season or even the next, try making a promise with your player to keep them tied down at the club.
If you know you can't keep them in the long run, it's up to you to get the best possible deal when selling them in negotiations. Don't forget about taking a percentage of a future sale fee should your little star player transfer again for a huge fee in the future.
---
Read more Football Manager guides:

---