If you're an FM player that's constantly saying to yourself "there is so much information on a scout report, what does it all mean?" then keep on reading!
It's not very useful to be paying your scouting staff for them to be providing pointless reports that you can't read.
We're going to go through each section of the scout report and explain in simple terms what it's trying to tell you.
Contents:
Receiving A Scout Report
Scouts can be assigned out to gain knowledge on players, whether it be a specific assignment to watch one man, or telling a scout to watch a country, continent or competition.
Where To Find The Scout Report
You can view the scout report in many different ways.
The main way to find a player's scouting report is to go to the player's profile, click Reports, followed by Scout Report.
Once a variety of players have been scouted, we will receive a scout recommendation. If you go into the Scouting tab on the left-hand side menu within FM, and select Players across the top followed by Scouted, you'll get a list of all of the players that your scouts have worked on.
They'll also be a recommendation rating out of 100. I recommend clicking the column name so that the list of players becomes sorted by highest to lowest recommendation rating.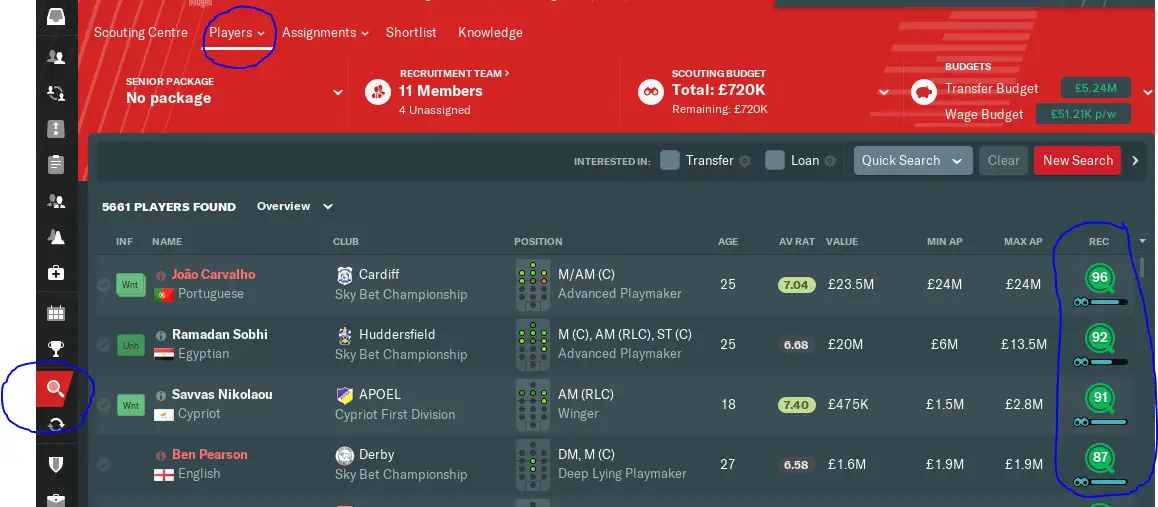 Scouting Knowledge
When scouting a player, it can several weeks or even months to gain 100% knowledge about a player. Sending your best scouts to watch players you're most interested in will allow you to build a more accurate profile of the player you're scouting.
Within the scouting screen, you can find the percentage of knowledge that has been scouted. Aim to get this to 100% so that you have all the information possible to make a good decision about whether or not you want to sign a player. The last thing you want to do is rush a signing for a player and find out upon arrival that he's injury prone, inconsistent or has another negative trait.



Star Ratings
Within a player's report, you will be able to see a star rating. This is a dynamic rating that compares the player with the rest of your squad, and also takes into account the quality of your league. For example, if a player is signed by a team in a better league than they were in previously, their current ability star rating may fall slightly as they're being compared with the rest of their new team and league.
Yellow stars are the current ability or potential ability that you scout is sure of. You don't see black stars in the current ability rating for players already at your club as everyone knows everything about them already.
Black stars are the unknowns about a player. Your scout may believe they could have a lot of potential if you see lots of black stars, but they can't be sure. Players who have been 100% scouted and have black stars that fill up the potential ability rating are definitely worth a look at.
As your scout watches more games and gains more knowledge about a player, the number of black stars could change, meaning that the scout has a more accurate evaluation of the player.
Choosing The Best Scout
Identify who is your best scout and allow him to focus on investigating your most vital transfer targets, whether they're a young hot prospect or a key player that you think would fit nicely into your squad. Looking at scouts with a high judgement of current and potential ability should be a priority to carry out this role.
Now that you're able to get a scout report on the go, we can delve into the descriptions and information provided to us.
Current Ability vs Potential Ability
As we know, current ability reflects how good a player is now, whilst potential ability is about how good a player will be in the future.
Players will develop the most up until the age of 24. Once they've hit 24, growth will begin to slow down, however, they won't stop growing. When a player is young, you should concentrate more on their potential ability. If a player is over 24, look deeper at their current ability as it's unlikely they're going to continue making intense improvements in their ability as time goes on.



Having said this, the higher the current ability of a younger player is, the more likely they'll reach their potential as they won't need to develop as much if they already have great current ability.
As a general guide, players who will fit right into the average quality of your squad will often have 3 stars in their current ability rating. If you're looking to improve the quality of your whole squad overall, aim for players who have a scouted current ability rating of 4 stars or more. However, you should always focus on high player attribute ratings than what you have currently, comparing players in similar positions is a useful method to work out if a target can bring more quality to a position.
Player Overview Summary
The overview summary within the scout report tells us some basic but key points about the footballer we're looking into.
Estimated Cost: informs us about what we can expect to be paying for a player. A lot of the time it will also tell us whether the club is looking to offload the player or whether they're reluctant to sell. If a club isn't willing to sell a player, be prepared to dig deep into your pockets as they'll prepare to sell for the highest price possible.
Estimated Wage: lets us know what the player may expect to earn when negotiating a contract. Players from more reputable leagues that have already got first team match experience will demand much more than youth from South America for example.
Transfer Interest: indicates a player's willingness to join your club. If your club isn't reputable enough or isn't playing in reputable competitions, a player may be very doubtful about joining you, opting to wait and join a larger club instead where their chances to win a trophy or be paid a large amount of money is better.
Loan Interest: is similar to transfer interest. Loanees want game time to show their current club that they have the quality to play and that they shouldn't be sat on the bench or out of the first team. If they can't get game time in a reputable league or a club that lacks quality to achieve the player's goals, they may not be interested in joining your club.

Observations – Pros & Cons
The pros and cons lists are the juicy bits of the scouting report. Here you'll find simple points about the player that's been scouted.
There's a variety of things to learn about a player here, some will be very pleasing, whilst others will disappoint you.
The more dark green items in the Pros list indicate the strengths of the player or really important things to understand about a player and how they can influence your team.
In the cons column, you'll find a range of potentially negative points that have been discovered about a player, with the worst being a dark red towards the top of the list.



You may choose to ignore a lot of these points as they can be quite subjective. I personally tend not to sign injury prone players, other players of Football Manager may not care too much if they have enough squad depth. The more skilled your scout is and the more time they've had to watch a player, the more pros and cons will appear in the scout report.
Hidden Traits
We explain hidden traits and attributes within our player attributes complete guide. These are attributes in which the ratings are hidden from us.
However, we can find out clues to how a player's hidden stats are rated in the pros and cons observations. The six hidden attributes are:
Adaptability
Consistency
Dirtiness
Important Matches
Injury Proneness
Versatility
Sometimes within your scout reports, there will be mention of things like "can play in a couple of positions", illustrating the player's versatility. Or there will be comments such as "consistent performer" which obviously highlights the consistency of a player's game.
These extra snippets of information are extremely important to consider when investing money into a player, so study the scout report carefully.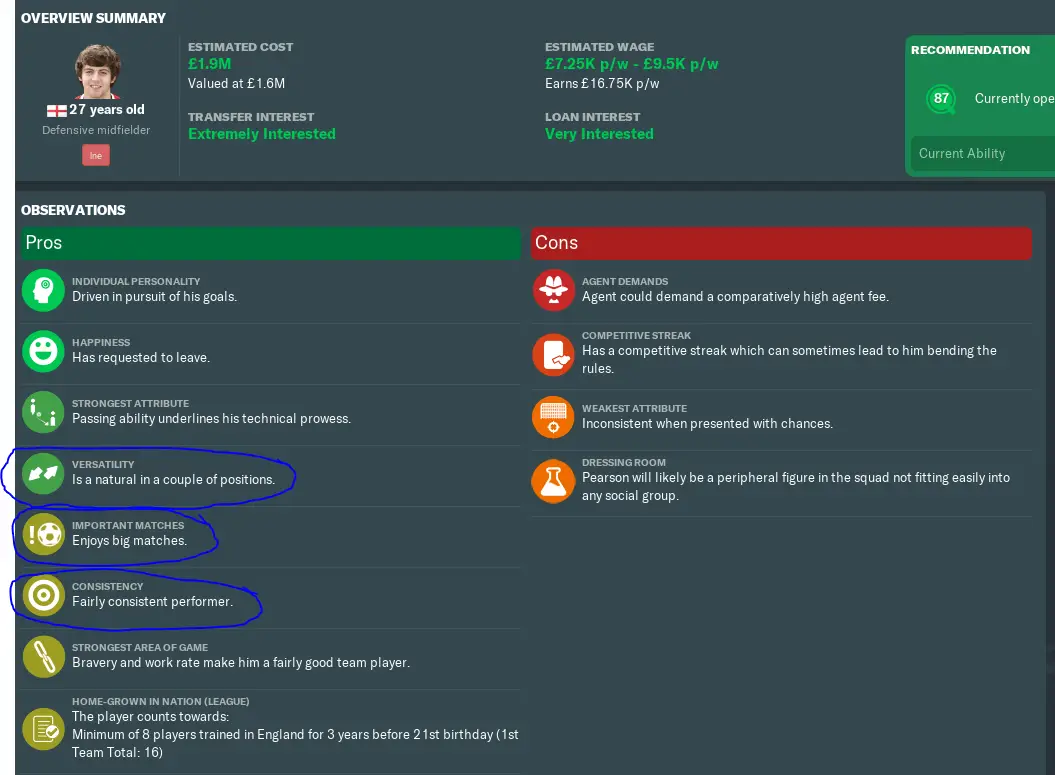 Matches Watched
If your scout has been to watch matches of the player, you'll sometimes be able to view a highlights package and obtain match reports too. If you have the time to follow up on this part of the game then that's showing some real dedication. I wouldn't recommend sitting through a highlight reel though…
Player Attributes & Traits
As the scout progresses with watching a player and gathering info about them, we'll be able to see their actual attributes too on the player's main profile screen. You may notice that attributes are sometimes are a range of numbers that appear like (12-15) which means they're a rough estimate. As more knowledge is conceived about your scouting target, the fewer estimates you'll see, and in their place will be the player's actual attribute rating.
You'll also discover the player's traits which often tell us the player's style and individual characteristics of how he'll play in his position.
Personality will also be revealed. A lot of FM players who have played the games over the years will tell you how important a good personality is, finding this information out is crucial to discovering a quality player.
Learn more about what defines each player attribute here.
Summary
Now you should be able to understand your scout reports will a little more confidence, helping you to decide between your transfer targets a little easier. The main things to remember are:
Scout to 100% knowledge
Weigh up the pros and cons with your tactics and style of play
For youth players focus on potential rating
Consider whether you can afford the player before wasting too much time scouting them further
Don't forget to compare your players using the Player Comparison feature in Football Manager to really get a great understanding of the ability in a player you're considering purchasing. Upgrade your staff every so often too so that your reports come quicker and with more accuracy.



---
Read more Football Manager guides:

---