Getting into Football Manager can be really tough if you've never played it before. Whilst you may understand how football works, understanding how football works in a game's match engine and how to begin in Football Manager is quite different.
Whatever it is you may be struggling with, this beginners guide to Football Manager will walk through key areas of the game, including how to setup Football Manager, getting started with tactics and preparing for pre-season.
We'll try to make sure you don't get the sack as a new manager, but every game save is completely different and poses different challenges – that's the beauty of football manager.
Get your team tracksuit on and we'll dig in…
How To Setup Football Manager
Setting Your Goals
If you're playing Football Manager for the first time, don't assume it's like other football games you've played. And if you've only ever played something like FIFA Career mode, then you're about to be overwhelmed quickly, but don't worry, we can help you through this…
Your primary goals in your first ever Football Manager save should be:
Learn where everything is
Learn how the tactics screen works
Try and avoid the sack
Be as patient as possible
Tip: Don't try going into depth with your training or improving your staff and scouting. It'll only waste your time. Focus on your tactics, team fitness and squad morale. These will be the most important things to get your first results!
Select Your Game Mode
There are a small selection of game modes within Football Manager, we'll be discussing the main classic game mode throughout this beginner's guide.
Career
This is the classic Football Manager game mode with the most in-depth game play. It is completely offline, other than being able to view the high scores.
Fantasy Draft
Build a unique dream team and play against other FM managers.
Online Career
This mode allows you to play against your friends in an online league.
Create-A-Club
Replace an existing club within FM adding your own personal touches before starting your journey.
Create A Manager
Within Football Manager you can customise your own manager. So maybe you'll create yourself in game or a completely random character.
Anyway, this is pretty straight forward in terms of appearance, but what's really worth talking about is the managerial style.
There are two questions to consider here:
Are you going to be a tracksuit manager or tactical manager?
How much experience are you going to start with?
Choosing Your Managerial Style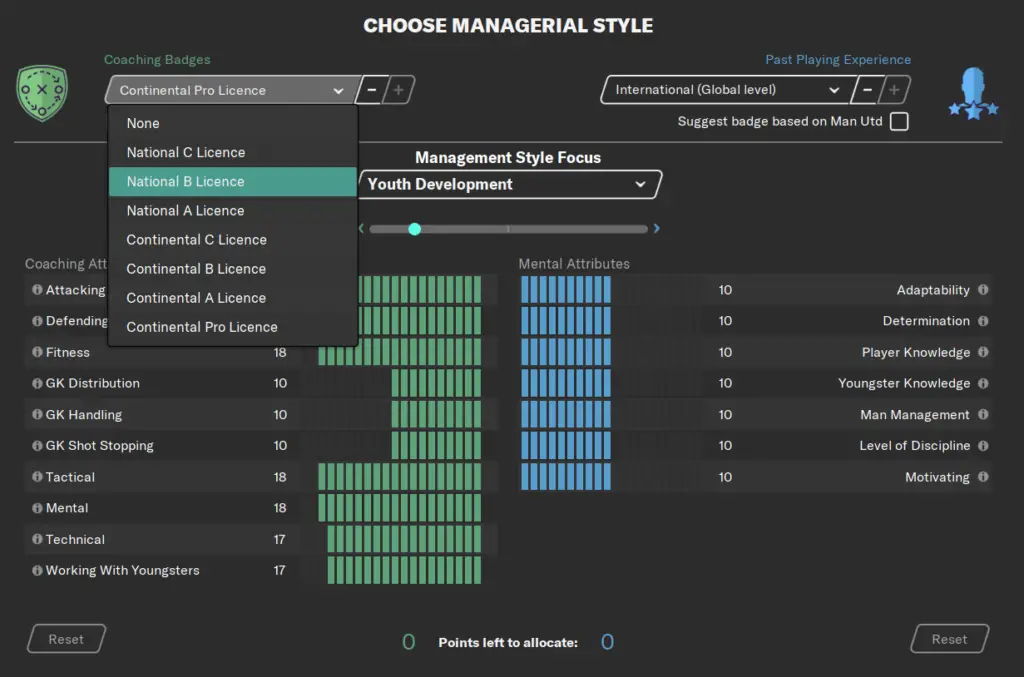 You'll see that you can slide the amount of attributes around that you're able to place on your coaching attributes and mental attributes.
To get more attributes to play with, select a more experienced coaching badge and past playing experience level.
I highly recommend selecting the "suggest badge based on your team" option to get the right attributes relevant for your league. Alternatively, select an even higher level for this if you could do with the extra help with the attributes.
A lot of FM players like to go for a much lower level and work themselves up, but this can take a lot of time and for an inexperienced player it may create some difficulties.
What does having better attributes affect?
The better your attributes, the more of an effect you'll have on your players in terms of training and managing their morale.
With higher coaching attributes, you will have a better star rating in game for training assignments. Each of your coaching staff will usually specialise in a particular area, so if you had a high tactical attribute, your players are more likely to become familiar with your tactics quicker.
Your mental attributes will also play a part in training too, as well as the day to day management of your players morale, or when speaking with the board or player agents.
Selecting A Team
Hopefully, you have an idea on which club you'd like to manage.
If you're really unsure, here are a few ideas for you to consider:
Manchester United
United are obviously a global superpower with a rich history. In recent times since the departure of Alex Ferguson, they've struggled to challenge for the league as well as any success in the Champions League.
Can you guide them back into the top 4 using their prestigious facilities and wealth?
Olympique Lyon
In Ligue 1, PSG have been dominating throughout the past decade. Will you use the attacking talents of Memphis Depay, Moussa Dembélé and Bertrand Traoré to fire you to Ligue 1 glory?
Nottingham Forest
It's been a continuous campaign to get back into the Premier League since Forest's relegation from the top flight in 1999. The club are two time European Champions and have a pretty good squad for the Championship this season.
Consider trying to wake up the sleeping giant by dominating the Championship.
Once you've selected your team, you can hit "Quick Start" or "Advanced Setup". I always select advanced setup so that I can maximise my game's database and efficiency.
Nation & League Setup
FM players often get confused by this part of the game setup, but it's actually quite simple.
Here you will add leagues that you'll want to be simulated within your game save. There is a view only and a playable mode that you can select for each league…
Playable
As the name suggests, these leagues will allow you to play in them and accept jobs in throughout your save. There will be a high level of simulation, taking into account the quality of players, managerial AI and much more detail than compared with a view only league. Regens will appear annually for each team. These leagues give the most life like simulation but take a longer time to process.
View Only
This mode means that the league will have fixtures but less detail will be considered in the simulation of each game. It is based more on the reputation of a club overall rather than taking into account specific player quality and managerial AI, although a small amount plays a part. You won't be able to see league tables in depth, but will be able to view who won the league, who was a runner up and who was relegated for example. There aren't as many regens from these leagues and overtime the strength of clubs within these leagues will fall behind playable leagues.
No League Selected
Here there are no fixtures being simulated, so no league tables will be generated either. Reputation decides the promotion, relegation and European spots, and there is no realistic simulation taking place, meaning the same clubs will appear over and over again winning the league. Regens can be almost non-existent.
The league you play in will have the highest level of detail and depth.
The more playable leagues you have, the higher level of detail being simulated, meaning longer processing times. The speed of your computer will affect this of course, but there is a handy star rating in the top right of the league setup screen that will help you judge the amount of leagues your computer can cope with without harming the speed.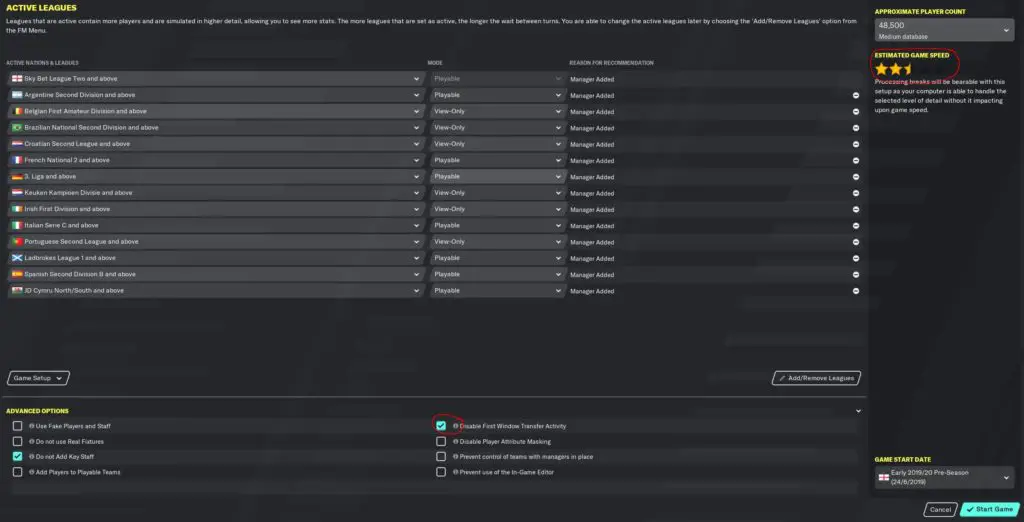 So, if you're playing as a club within Europe's top 5 leagues, EPL, La Liga, Serie A, Ligue 1 or Bundesliga, I highly recommend setting all of those leagues as Playable.
I like to select some of the other reputable leagues in Europe too, and usually aim for a database size of 40,000 players. Many FM players will choose to go higher than this, and many lower, but I've never had any issues in scouting wonderkids or running out of quality players with 40k.
Also, the leagues you add here can be changed each season within the FM settings.
There are a few more advanced settings on this screen which can be left to their default options, you may wish to play with these when you're more comfortable with Football Manager – I quite enjoy disabling the first transfer window to keep teams as they are in real life for the first half of the season.
Club Vision & 5 Year Plan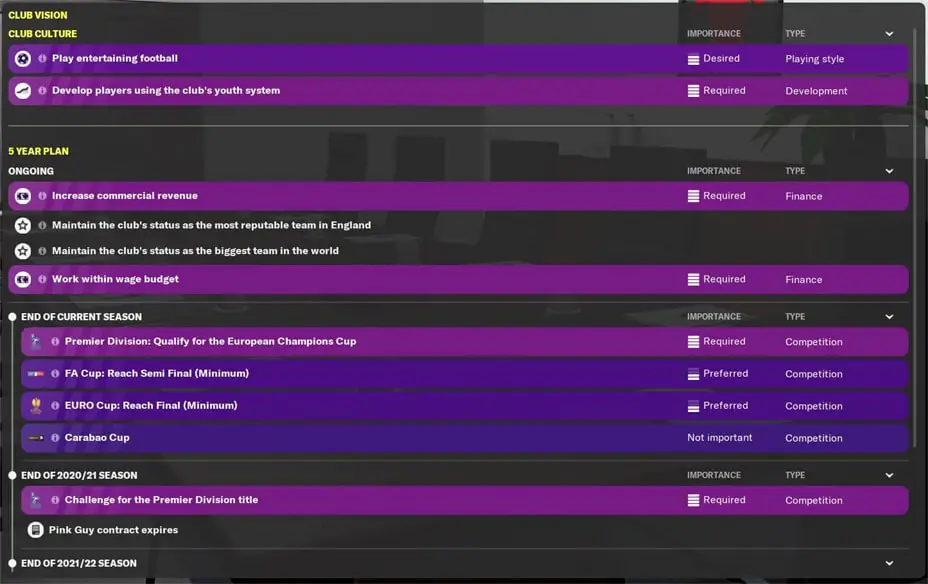 Upon the database of player's and clubs being built, you'll be able to get started with meeting your board, staff members and players. This will allow you to understand the club goals, the culture of the club and what is expected of you as a manager.
The club vision is new to Football Manager and allows you to have different objectives as you progress through your save. To begin with, you will be given a 5 year plan.
Just like in most football clubs, the board will have a strategy laid out for the next few years and finding a manager that fits into this vision is key. You will need to take the 5 year plan very seriously, paying particular attention to the importance of each goal if you want to avoid being sacked in the morning.
The more reputable the club, the more difficult it may be to complete the 5 year plan due to the high demand of the board.
You will be graded on your performance towards each objective by the board. If those grades start slipping, you'll be getting expelled back into the world of unemployment.
When you're navigating your way around the Football Manager interface, you'll see particular signs that will inform you something fits into the 5 year plan.
Examples of this include a staff member's scout report telling you that a signing will fit into increasing commercial revenue, or being the right age if your club is keen to sign youngsters. If you use the default tactics to start out, a thumbs up will appear next to some of the choices, indicating they fit into the playing style the board wants to see.
Tip: Use the club vision to help get you through your first season, but don't forget about building for the future too. Signing 1 player may apply towards more than 1 part of the club vision for example.
Finally, you can also speak with the board to negotiate the 5 year plan objectives however, you may need to build up your relationship with the board first before you can ask for these changes.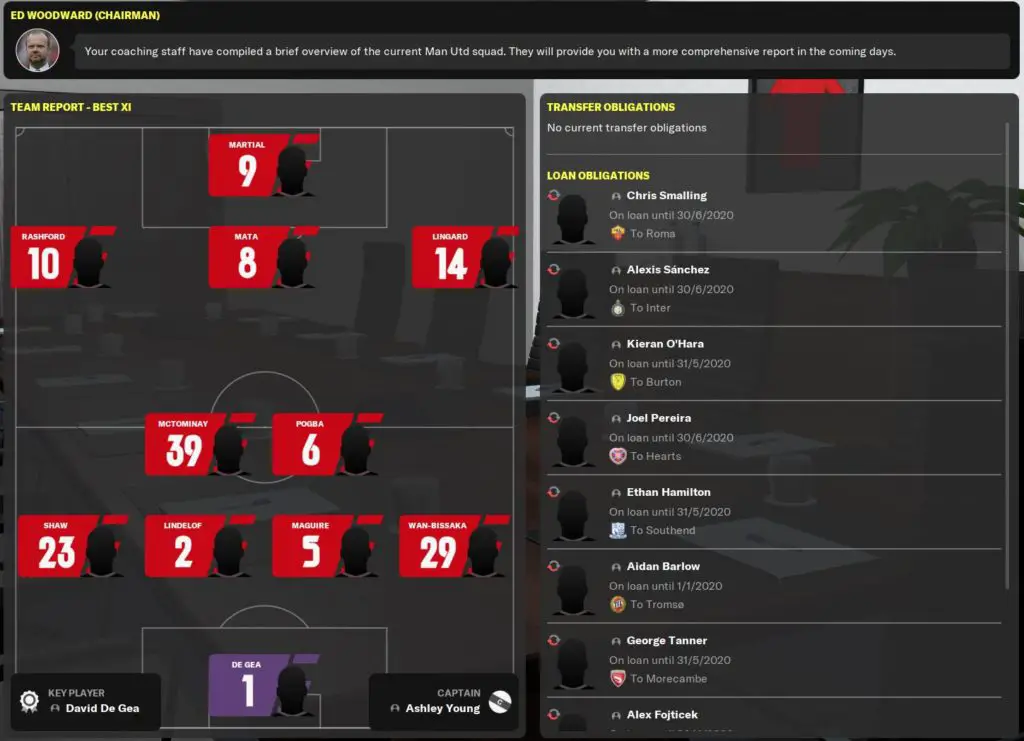 Getting Started on Day 1
Let's get down to actually playing Football Manager now. Firstly, it's your big first day at your new club, so unfortunately there's some admin to do, as well as getting your first tactic created!
You'll have received the usual set of emails within your Inbox from staff members, some more important to take notice of than others. Here's the order I'd read and action the emails in to get started:
Agree/negotiate the club vision and expectations:
We've just discussed this above, but you can try to negotiate any changes at this point, and you'll need to accept the club vision before progressing.
Pre-season Preparation:
This will give an idea of how the club is planning to prepare the players for pre-season training. As a beginner, I suggest asking your staff to handle training until you're more familiarised with Football Manager. We will go into staff responsibilities shortly.
Pre-season Fitness Report:
This email identifies players who are in top condition on their return back to training as well as those who are lagging behind or are injured. This is useful top level information to know as it allows you to begin preparing your starting 11 for the first day of the season. For example, you may need to recruit a player on loan to cover a long term injured player or bring a youth prospect into the first team.
Squad Selection Rules: If you're familiar with the league you're starting in, I wouldn't worry too much about trying to understand squad selection rules but this email can be good to quickly glance at so you can plan your future transfer activity.
Introductory Advice Summary: You'll find a list of advice from some of your staff members here. I tend not to listen to my staff more than half of the time. There is usually some good advice, but then often there is advice that will completely contradict what you as a manager is trying to achieve. The information here of course will differ massively from club to club.
Tactics Introduction: This is an absolute MUST do induction if you have no experience with FM, and even if you do, it's great to explore all of the various tactical options available.
Once you've completed that tactics induction, you'll have a rough understanding of how to go about changing tactics and how player fitness relates to deciding on your best starting 11.
Staff Responsibilities
This section is key to having a good start with Football Manager. It can save you a lot of time avoiding distracting minor requests that would usually be required from you.
A lot of what we do in Football Manager can be completed by your staff – as long as your club has the right staff members in place.
If you're at a club with plenty of staff, it won't be difficult to assign staff roles. On the other hand, if you're somewhere that's lacking a wide team, you may need to recruit some staff or learn how to handle things on your own.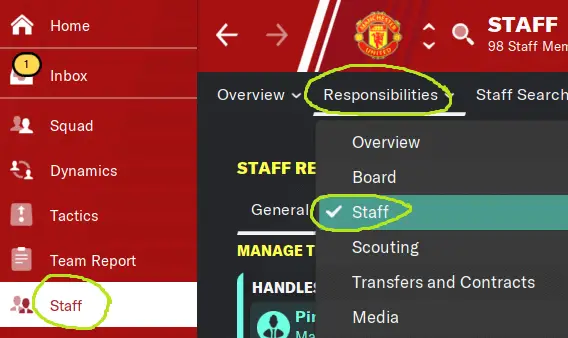 Go to the Staff responsibilities screen by selecting "Staff" on the left main menu, then click the "Responsibilities" tab followed by "Overview".
Here you can see the different departments around the club which you can take control over or delegate to a staff member. It is entirely up to you what to delegate as each manager will be different here.
I personally like to ensure i'm the one responsible for the First Team selections, hiring and firing of any staff and any contract negotiations.
I like to delegate first team training to my assistant manager as training can be very confusing to begin with. Scouting tasks should be managed by your Chief Scout, and I suggest leaving it like this until you're comfortable with the other areas in game. However, if you do change this to be something you look after, you will start to see the "Create scouting task" options in the scouting menus.
As I mentioned, it's entirely up to you what to delegate, but it's definitely worth taking a look at, rather than trying to do everything yourself. As you get used to playing the game, you can change these task owners and take on more responsibility yourself.
Tip: the better stats your staff have the better they will be at dealing with the tasks you've delegated to them. There are a couple of ways to find and sign better staff members, but we won't discuss that here.
What To Do Next?
I highly recommend trying to complete the below list of actions. It's a list of actions I'd recommend following closely to help get you well on your way in your new managerial career heading into pre-season and beyond. This is a great chance to wonder around the menus and get to know where everything is by yourself. And if you're still struggling, we'll have more guides for you to read…
Discover your team's strengths and weaknesses. Tip: go to the "Team Report" screen and click on "Assistant Report" tab.
Check our where your squad is lacking depth. Tip: go to the "Team Report" screen and click on "Squad Depth".
Try to understand who your star players are and create your tactic around them. Tip: the stars on current and potential ability for each player give an indication of how good that player is compared with the rest of the squad and league. Don't disregard 3 star players.
If you're struggling with judging how good a player is by their attributes, check out our guide to understanding player attribute ratings in Football Manager.
Use the transfer market to sign players that improve your team or help build up squad depth for when inevitably you pick up injuries. Tip: look at the Scouting screen and select the "Players" tab to begin finding talent.
Get rid of any deadwood by transfer listing players or making them available for loan. Tip: you can do this by visiting a player's profile screen.
Find your reserve and youth teams. Check our the Development Centre.
Get pre-season completed by getting player's fit and tweaking your tactics.
So there you have it, a brief beginner introduction to getting started in Football Manager. Hopefully, this beginner's guide to Football Manager has improved your initial knowledge of what to do within FM when starting a new save. I can't recommend doing the tactics induction enough. I don't mention much about tactics here as there is so much to talk about, I could go on forever.
Don't forget to check out our other Football Manager guides to turn from a beginner to an advanced player in no time. Remember, be patient, and stick to your initial goals of learning about the game rather than trying to win the league first time around.
---
Read more Football Manager guides:
---